EM woke up covered in bites. We assumed bedbugs, though I escaped unscathed, so we showered and switched rooms. I don't think she ended up with any new bites after that.
| | |
| --- | --- |
| There was a bakery/diner I vaguely remembered as being in our neighborhood so we looked through our guidebook and found what we thought was it - Cafeteria Condado, in back of the Ashford medical center. It wasn't the place I remembered, but at $3 for breakfast I wasn't going to complain. The ham, egg and cheese sandwich was more like a hefty ham sandwich garnished with egg, but it made for fine hangover helper. | |
We were determined to take the bus rather than forking over the dough for the cab, so we found the closest stop and waited. And waited. And waited. Cabbies cruised by and occasionally haggled, but as more and more folks assembled at the stop we formed a sort of union that refused all offers of cabs, even when it began raining, then pouring. One man had been living in Puerto Rico for a while said it usually took about 45 minutes for a bus to arrive, but he'd been waiting an hour when we showed up. Some 30 minutes later the bus finally arrived. But it was 75 cents each vs. $14 for the cab, so I didn't mind.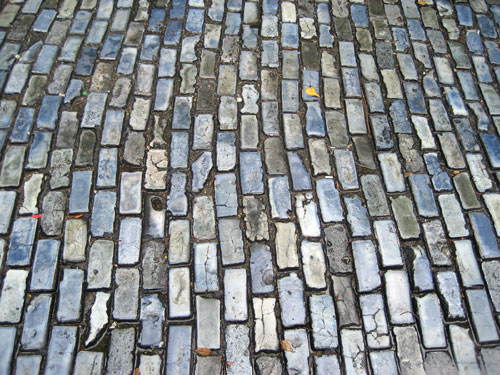 The blue cobblestones of Old San Juan.
| | |
| --- | --- |
| We wandered the streets by day, gawking at the architecture, until we found our way to Franky's, a junk store filled with bits and pieces of everything, including heaps of used records and books. | |
| | |
| --- | --- |
| I found these three beauties on the same shelf an pushed them a few inches closer together for better effect. | |
| | |
| --- | --- |
| I suspect this figurine is supposed to be funny - mom sewing her son's pants up without bothering to remove them. But at first glance I couldn't figure out what the hell was going on. On second glance I thought she was sewing his asshole shut. That'll fix his farting! | |
| The Hulk as Jesus? You really wouldn't like him when he's angry! | |
| | |
| --- | --- |
| I kept stopping at every open door or window to admire the tiles in all the stairwells, this particular shot from the former book museum (it has moved elsewhere in town.) | |
| | |
| --- | --- |
| We stopped by the cathedral, a nicely painted, quiet space. However, I found the coin-operated LCD's in place of candles inspired more giggles than reverence. | |
| | |
| --- | --- |
| The same with this little guy. He seems to be saying, "Meh. Believe in me or not, it makes no difference." | |
| | |
| --- | --- |
| They were renovating some chapel or niche and Christ had been set aside, literally. I like how the crumbled plaster on the wall behind him looks like flames or smoke behind him. | |
| | |
| --- | --- |
| At some point we stopped for a snack at La Bombenara, a bakery/diner that serves up some tasty pastry, milk shakes, freshly squeezed OJ, sandwiches and more. It's over-priced, but everything is in Old San Juan. | |
| | |
| --- | --- |
| Outside, a man was marching around waving a flag and shouting through a bullhorn. I never could figure out what he was saying, but at some point he led a group of school children through the streets. Ah, the delicious contrast of pastry and protest... | |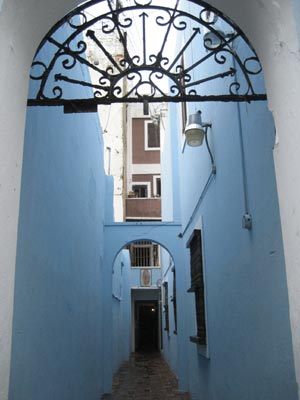 A random alley.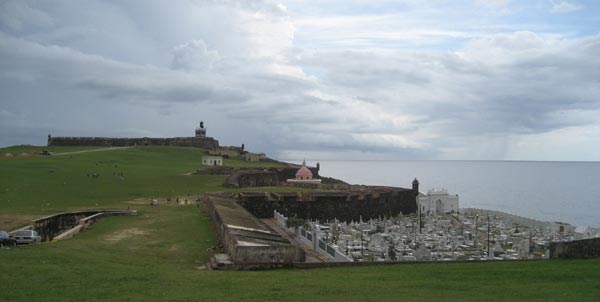 El Morro, the large castle at the tip of the peninsula,
with the San Juan Cemetery in the foreground.
I developed a fondness for cemeteries after a trip to New Orleans a couple of decades ago. Unfortunately, the gates were locked at the one in the photo above so we stood outside the walls and looked over. (Note: some browsers automatically resize the image to fit the window. Hold the cursor over the window until a zoom box appears in the lower right corner. Click it then use the scroll bar for a much bigger picture!)
| | |
| --- | --- |
| The tree growing just inside the wall was adorned with toys hanging from strings - matchbox cars, rattles, several beanie baby Barney's - like some kind of morbid Christmas tree. | |
| | |
| --- | --- |
| A few of the crypts were broken open as if their residents had escaped. | |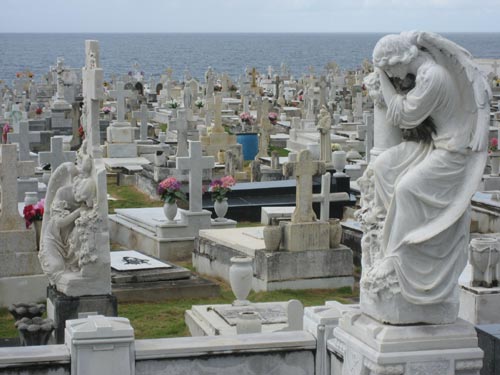 Next door is the entrance to La Perla, what passes for a slum in Old San Juan - perhaps another version of Ghetto Paradise, since the place has a fantastic view of the sea and sits just outside the walls of the prettiest town anyone could ask for.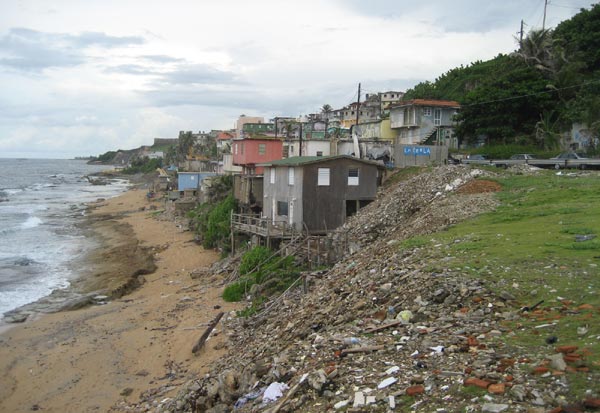 We wandered the streets, noticing that the only thing that could make them prettier is if they'd get all those damn cars out of the way.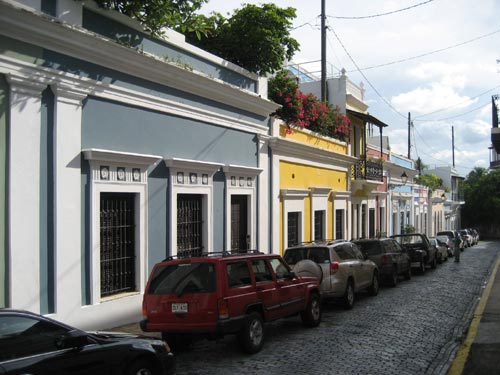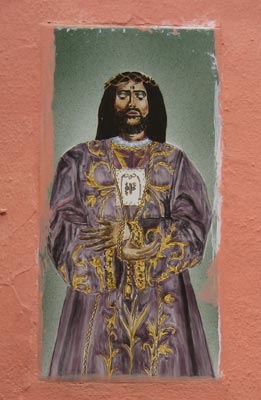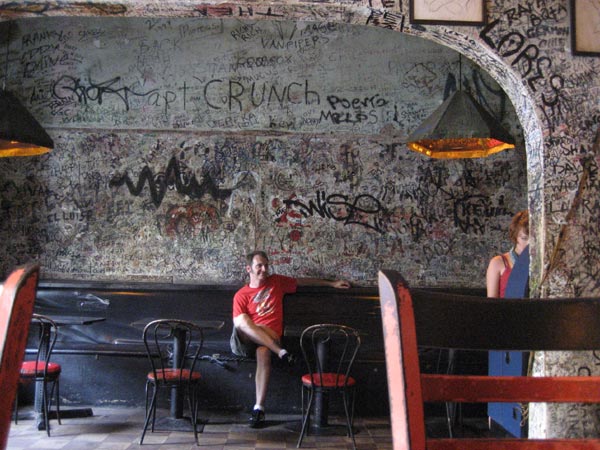 | | |
| --- | --- |
| We stopped in at El Batey for an afternoon refresher where we met Sammy, bartender and all around super nice guy. Then we hit the streets again. I have amazing blisters on my toes... | |
| | |
| --- | --- |
| We called degenerate SVA and got recommendations for dinner. (We had left the guide book she wrote back at the hotel.) Sammy at El Batey confirmed her recommendation for El Jibarito, genuine Puerto Rican food at reasonable prices. Name-dropping Sammy got us a free round of soup, greenish pork broth with noodles and random vegetables - good. | |
| | |
| --- | --- |
| EM opted for fish again, something that looked just like previous dishes but tasted considerably more fishy. | |
| | |
| --- | --- |
| I went with churasco, something I've heard is technically a Cuban dish but Puerto Ricans love. El Jibarito does it right. I went with mofungo as a side, a heap of mashed plantains served with a garlic butter sauce. I generally don't like my fruits getting mixed up with my savories, but this works. Various versions can contain pork, chicken, etc. | |
We returned to El Batey to find Sammy in the midst of a dice game, Generala, with another patron. Eventually he taught it to us and we were hooked. We spent an hour or two playing dice and drinking, occasionally interrupted by other patrons who needed Sammy's services. Eventually Lawrence, a regular who played with us, beat us out of a dollar in the only game we played for money.
We wandered off in search of another bar but found nothing open to our liking so we piled into a cab and returned to the hotel.
There's no place like home... no place like home...

All content on this site is owned by Degenerate Press and cannot be used without our permission. We have lawyers for friends with nothing better to do than cause trouble (no kidding), so play nice. Copyright © 2007, All Rights Reserved