I visited Puerto Rico back in 2005 and had a blast but felt like I'd done it all and wouldn't have gone back. But my girlfriend, EM, had a friend living there so we decided to head down to visit. I booked the flight through Travelocity and found the cheapest was through Spirit Airlines. I vaguely remembered something about them being Delta's low-cost subsidiary but didn't think anything more of them.
Our flight out was at 9 AM. I hate mornings, but we managed to arrive at the airport at 8:15, chipper and ready to fly.
"I'm sorry but you're too late. The gate already has your flight," said the lady at the counter.
"I'm sorry, what?" I said, wondering if my usual brainlessness in the morning was making for some communication error or if I had screwed up the reservations somehow.
"We can't allow you to board because the gate already has your flight."
"Um... what? I'm here 45 minutes early, I can make it to the gate easily."
"There's nothing I can do from here. I can't let you on the flight."
That's right - with Spirit you are required to check in at least an hour early. The three folks next to us had the same problem with a different flight and the girl ahead of us was rebooking for her second day in a row because she couldn't get there early enough. (Of course, Travelocity told us nothing of this requirement - and even if they had I would've taken it as just more bullshit about how early you have to be at the airport due to security these days.)
The girl at the counter told us to get there at least two hours early because in addition to their hour-in-advance requirement there would be a long line. As there is no electronic kiosk for checking yourself in, you are forced to wait in this line. We had to rebook for the next day and scramble to call the hotels, rental cars, friends, etc. to move everything a day back.
So a day late and $50-something dollars later, charged for changing flights, plus the $5/day we had to pay for parking since we couldn't possibly arrive there early enough on MARTA, we arrived before the fucking sun came up to make our flight.
It is now my personal mission in life to put Spirit Airlines out of business. I've never had a mission in life, so it's kind of nice. Fuck those fucking bastards.
At least the flight was uneventful. It was also spartan - no TV, no radio, no reclining seats, and you had to cough up $3-5 for a snack. Fortunately I had brought ample reading material for the vacation.
But the extra day had given me time to research a ride from the airport to Fajardo, the town where the ferry is that would take us to the small island of Vieques where EM's friend, Paul, was living. So when we picked up our bags we found Angel, a Puerto Rican version of Kenny Rogers, standing by. He speaks passable English and occasionally has his partner, Mary, along for the ride.
Angel: 787-223-6200
Mary: 787-649-9155
Mary doesn't speak much English at all but they were both friendly folks who live in Fajardo so they know their way around.
We arrived with an hour to spare before the next ferry so we had a snack at the cafe across from the dock - sandwiches and the local brew, Medalla. You know a place is not well known for it's beer when the local flavor is only available in light. Frankly, Medalla is lousy. Instead, drink Presidente from neighboring Dominican Republic. It's a fine brew for a hot climate and is usually served in bottles, whereas Medalla is most often in cans.

A guy wandered in with an armload of mangos and the bartender sliced them open and handed them out to the patrons. We were there in the middle of mango season and the things were everywhere. There are several varieties as well, this particular one called "Indian Mango" by the locals. Delicious!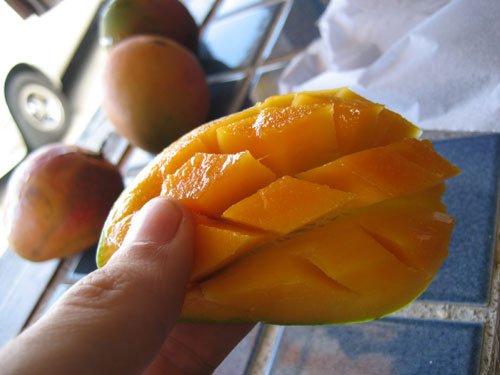 Tired, grizzled and greasy after the early morning hustle, we boarded the ferry. It's a whopping $2 for a leisurely hour jaunt across brilliant blue waters - worth it for the ride alone.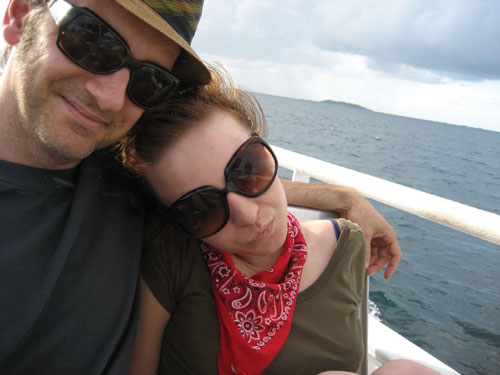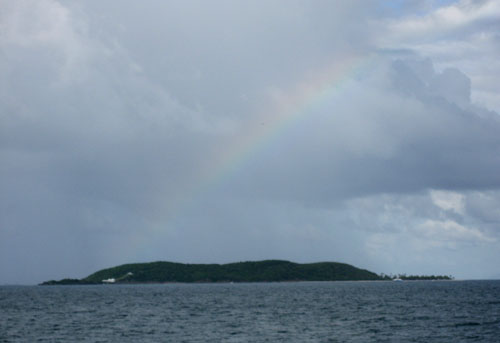 A rainbow appeared as a positive omen for the week.
Not everyone enjoyed the ride. We had met Josh and his friends/family in the cafe. Nice folks but Josh had already been drinking all day so even the minor rocking of the boat didn't suit him. We ran into him several times over the three days we spent on Vieques and every time he was loaded, yet simultaneously hyperactive.

A storm followed us across the channel, making for dramatic skies.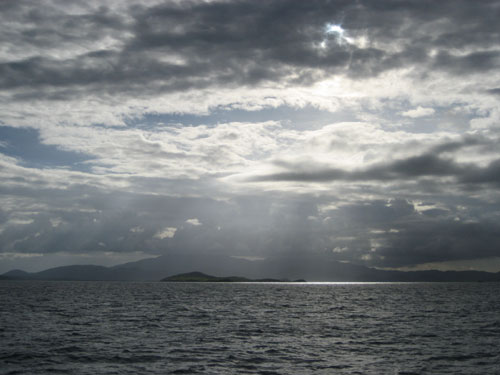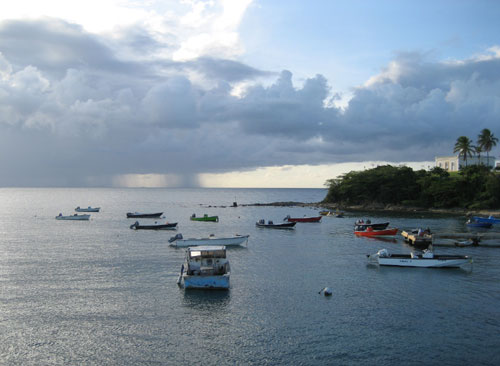 | | |
| --- | --- |
| We hauled our luggage up the street to Al's Mar Azul Bar, a beach-side bar painted bright blue where we were told to pick up the key to our room. Even on the 50-yard walk we were simultaneously charmed and alarmed - Vieques is lovely, and trashy. The stream under the bridge flowed over an abandoned shopping cart and lots of other litter. The streets and sidewalks are full of holes. There are abandoned buildings covered in graffiti every block or two. Yet there are beautiful beaches, Spanish colonial buildings covered in stucco and tile, and some of the friendliest folks I've ever met. "Ghetto paradise," to paraphrase EM's friend, Paul. | |
| | |
| --- | --- |
| We met the fine folks that run Al's, who also run Casa de Amistad, www.casadeamistad.com, a guest house, as well as a few other rooms around town. We ended up in the Becker Room - no A/C, no TV, and the balcony overlooks the bar's balcony so it can be a little loud. But all is forgiven for the view. (Note: some browsers automatically resize the image to fit the window. Hold the cursor over the window until a zoom box appears in the lower right corner. Click it then use the scroll bar for a much bigger picture!) | |
We trekked through Isabella II, the less touristy town, yet the capitol of the island, to Media Luna, a charming restaurant where Paul was working. Apparently during the right season the joint is slammed, but off-season we were 2 of the 6 patrons in the whole place. A night or two later he had no visitors during his entire shift. A lot of places were closed for the season, but we didn't mind. We went to Vieques to get away from it all, so we'd rather there be fewer people and less to do than more. Winter months the island is full of northern tourists. In July the Puerto Ricans take their vacations and love Vieques. In early June it's not unbearably hot, thanks to sea breezes, and there's hardly anyone on the island - perfect.
| | |
| --- | --- |
| | |
We glanced at the menu and found the prices absurd so we settled for a drink before wandering on for more affordable fare. Unfortunately, we couldn't find anywhere open. In small-town Isabella II, few restaurants are open past 8 PM. Ironically, we ended up at bbh, Bravo Beach Hotel, www.bravobeachhotel.com, perhaps the most expensive joint on the entire island. They have a lovely tapas bar/restaurant overlooking their super mod/deco pool. The joint reminded me of something from The Jetsons or Barbarella - orange lights, white walls, minimalist plastic furniture, very stylish but I was far more interested in the food than the atmosphere. To start, we got one of their specialty drinks and an appetizer of olives and Manchego cheese - fantastic.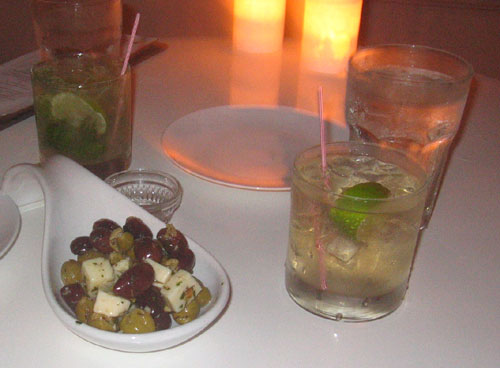 EM picked a grouper dish that was amazing. I had some other fish with carrots or something, but the photos don't look appetizing and the details of my dish are almost forgotten because dessert washed the memories away, a small slice of flourless chocolate cake with a ball of chocolate-chili ice cream on top of it. The chili powder in the ice cream made for a lovely spicy burn after the sweetness of all the chocolate, really delicious. (It's also the only place on the island to get sushi, if you're one of those people.)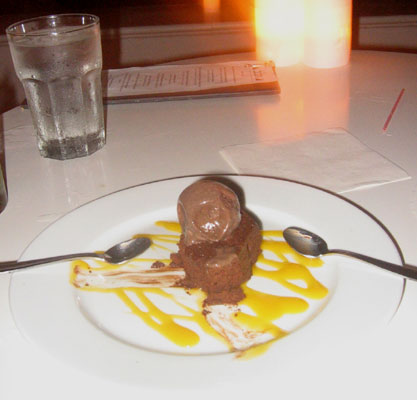 Smiling, we trekked back to Al's to find Paul. Josh and company were there, also all smiles, socializing with locals, ex-pats and the few other tourists in the joint. But after getting up at 4:30 AM to make damn sure we caught our flight, we could only stay up so late. Soon we stumbled around the corner to the room and slept like logs, despite the early morning light that our thin curtains could not block out while blowing in the breeze.
There's no place like home... no place like home...

All content on this site is owned by Degenerate Press and cannot be used without our permission. We have lawyers for friends with nothing better to do than cause trouble (no kidding), so play nice. Copyright © 2007, All Rights Reserved