This is an excerpt from our ezine Degeneration Excerpt, a semi-weekly and semi-weakly ezine on Atlanta's music scene, random travel tales, blasphemy and prophesy. If you want to subscribe to that broadcast just contact us!
Arrival Day & Day 1
Whoever said that travel was half the trip never had to fly. Walking and horses look fun by comparison, but I'd use up a bit too much PTO getting to San Fran and back. But if you're at the Atlanta airport with time to spare, walk between the check in terminal and concourse A instead of taking the train. They've got an installation of very cool African sculpture, big stone stuff almost worth the trip to the airport.
The couple in front of me on the flight is an odd pairing. He's an older man, salt and pepper hair, trying to look young and hip by wearing jeans but fucking it up with a tweed sportcoat. His date is reading a travel guidebook to SF, constantly touching and caressing him in affectionate ways like she's very happy to be on their little vacation. But she's half his age, pretty blonde hair, perky in every way. Something about them radiates "stolen moments together" and taboo. I'm jealous. I invent stories about them to pass the time on the long flight. In my mind, he's on a vacation from his wife. His mistress loves her new boobs and the money he blows on these little "business trips."
The lady next to me is reading The Wall Street Journal and a book called "Secrets of the Young and Successful," the chapter entitled "Master Your Universe." I can't even master my own domain...
| | |
| --- | --- |
| Four hours later I'm there, barely after I left according to the local time. But my internal clock says its dinner time, mid-afternoon. Fortunately degenerate AH picked me up with snacks in the car so I stuffed down delicious cookies while we sped around town. We swung by the pirate store and publishing place on Valencia, put together by Dave Eggers. | The "take a boot, leave a boot" chest. |
| | After a couple of stops and meandering, we ended up at Rasoi, an Indian restaurant in the Mission district, one of San Francisco's famous neighborhoods. I opted for some tasty grilled shrimp. AH and PH went for chicken and lamb dishes and all were pretty good. |
| | |
| --- | --- |
| I hopped a streetcar to get back to my hotel and settled down in front of the TV, feeling like it was late. Hotel Maxwell is a cute little place, chock full of 30's deco, in the midst of the Financial district, a block from famous Union Square, a big shopping mall disguised as a downtown neighborhood. | Union Square's monument to capitalism. |
I glanced at the clock and realized it wasn't even 11PM, so I headed out in search of entertainment. If you like shopping at big, expensive, brand-name stores, the Financial District is for you. I walked past 2 Starbucks in the block walk to the nearest pub. Fucking hell.
Around the corner is Johnny Foley's, a random Irish pub that attracts the after-work, happy hour crowd with a high male:female ratio.
There was a talented girl doing acoustic singer/songwriter stuff when I arrived, but I only caught her last couple of songs before another woman took over and chased me away with cover tunes the stiff, suit-wearing crowd loved.
Day 1
In the morning I headed across the street to Pinecrest Restaurant, a diner that boasts the best breakfast in San Fran. I needed it in the morning – jet lag? Hangover? Sinuses? Pinecrest is staffed by Asians, led by a very pretty, strangely breasty woman. Her barbed wire tattoo paired with her jutting breasts makes her seem like some kind of Pam Anderson impersonator.
Their decent feta and tomato omelet made a dent in my headache. Good hashbrowns, good coffee. The only downside is the blaring TV in the corner, featuring the world's biggest tool, Regis. I just don't understand how people can even look at the man, much less enjoy his shows. He and Carson Daly should be selling used cars in Omaha. Not just non-threatening, but non-challenging, non-interesting. Americans love empty calories.
Mmmm, cheesy omelet…
| | |
| --- | --- |
| I hit the conference I'm supposed to be attending, Seybold, and picked up my badge and free swag, but it was a near-perfect day out – sunny, just enough clouds to be interesting, high 70's, slight breeze… | I guess this seagull decided the sea was too much work and settled in the fountain overlooking the park at the conference center. |
Hmm, sit in a dark conference room watching a PowerPoint presentation about PDF publishing or skip it, download the presentation when I get home, and run amok?
Twenty minutes later I'm basking in Golden Gate Park, sipping key lime soda and reading Amoeba Music's "Music We Like," ogling girls and feeling like a slack college student skipping class.
Golden Gate is a pretty park, though at some entrances you'll have to run a gauntlet of beggars and drug dealers. But at least the drug dealers are friendly, "You all set today, chief?"
"Yeah, thanks."
"No problem. Have a nice day."
Rumor has it later in the day the girls of the night come out as well, but I was there before noon so things were quiet. But I did notice the dealers have new drugs or new slang for old ones – what the hell are "nuggets?" Is someone pushing fried bits of chicken now?
I got lunch at Sweet Heat, a little Mexican place on Haight where a grilled veggie burrito will set you back $6 but it's massive and pretty tasty. Three sauces to choose from, a green mild sauce, chipotle medium, or a mango habenero that's sweet yet incredibly hot. But the place is probably more of a dinner destination. It was dead at lunch and the waitress was mixing up sangria for the happy hour crowd in her spare time.

Digging through the local free alternative press, of which there is TONS, I found a few excellent publications. My fave, by far, is The Wave.
You can read the whole thing online too. They had a hilarious article about Schwarzenegger running for governor, as well as an article about the Turkish version of The Exorcist that just about made my head spin and spew, with laughter.
I found other publications with extensive music listings, though not a single paper in town had a night-by-night recommendation with reviews long enough to know what the hell you'd be seeing. Some listed the venue, band, and one word pigeonhole, such as "rock" or "indie" but none had enough information to aid me in my quest for worthy entertainment. Yeah yeah, I should'a done my research online in advance but the week kinda snuck up on me. So I found myself digging through countless papers with little to show for it.
But I'm brave so I decided to start the week off in the Haight-Ashbury area. The famed intersection is now the crossroads of capitalism and culture. A Gap stands on one corner, serving as the backdrop to a puppeteer. The opposite corner holds a Ben & Jerry's, functioning as a still-life for a painter on the other corner. It's good to see some forms of creative expression still allowed in this town. Set up a puppet show or an easel in front of a Gap in Atlanta and see how long it is before the proprietor gets the APD to haul you off.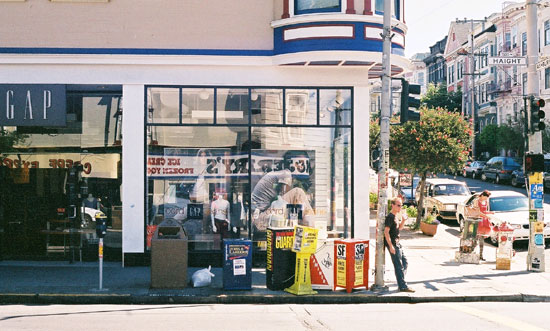 After a lengthy walkabout, I rested my weary feet then headed to dinner with AH at Ponte Vecchio, a tiny little Italian place in the Mission district. Decent bruschetta and salad for starters, then a good sea bass and an excellent tortellini in crème sauce with proscutto. I fell in love with the place on my last trip to San Fran, though there may be better restaurants in Little Italy.
We got a couple of mojitos at Luna Park just up the street, an upscale restaurant/bar famous for the Brazilian beverage. Stout stuff.
I hit the mass transit to Bottom of the Hill, a little venue south of the Mission district, somewhat off the beaten path but a good venue for live music. On the wall was an old poster for Servotron, making me feel right at home.
I caught Graves Brothers, spacey, passionate stuff a bit on the hard side. Enjoyable stuff, particularly when the guitarist switched to saxophone for a change in sound.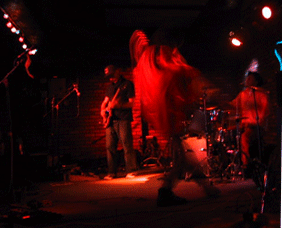 I put this together from several shots.
The next act didn't impress me. My tired feet and internal clock demanded I take a break so I split. After some minor misadventures with mass transit I ended up on a long late night walk, reminding me of many drunken nights in Cancun many years ago.
---
"These people could put us out of business!"
Photo Editor, Creative Loafing

There's no place like home... no place like home...

All content on this site is owned by Degenerate Press and cannot be used without our permission. We have lawyers for friends with nothing better to do than cause trouble (no kidding), so play nice. Copyright © 2003, All Rights Reserved