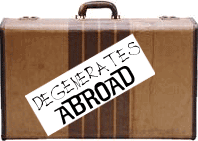 St. Augustine, Florida
March 2009
We packed up the camp and went into town for breakfast and a last wander. We'd had coffee at a little cafe overlooking the bay just down the street from the fort and EM wanted to return there for breakfast. (Sorry, I neglected to get a name, but it's on St. Marcos at Hypolita or so.)
| | |
| --- | --- |
| I went with the special, French toast with berries and whipped cream. EM went with a mushroom omelet. The joint was packed with regulars and with the fine fare I can see why. | |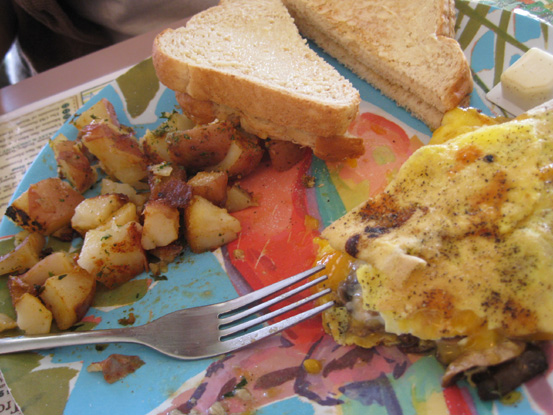 My only complaint is that the bacon was so thin it was practically two dimensional, a mere suggestion of bacon. I prefer it thick and chewy so the flavor lingers longer. But otherwise, a fine meal.
If it had been a perfect day I might have considered trying to stay so we could've gotten in a good day at the beach, but yet again the wind was whipping the water into spray, tossing boats around in the harbor and bringing in a chill. We took one last look around the bay (Note: some browsers automatically resize the image to fit the window. Hold the cursor over the window until a zoom box appears in the lower right corner. Click it then use the scroll bar for a much bigger picture!) A pelican caught a fish right in front of us but the wind wouldn't stop so we hit the road.
| | |
| --- | --- |
| | We stopped by the chapel dedicated to the location of the first Christian mass on U.S. soil, surrounded by a lovely park and old graveyard where people still put toys on the graves of children who died in the 1800's. There's also a memorial to the dead unborn. Me and the Pope don't agree on some issues - birth control, abortion, homosexuality, divorce, belief in a supreme being, hat fashion... |
We sped up the highway and out of Florida. Somewhere around Perry traffic ground to a halt so we got off 75 and cruised up 41 through downtown Perry itself. I hadn't seen the town since the early 90's but it doesn't look like much has changed. Back on the highway proper, we reached Atlanta in reasonable time.
With limited time and money, there aren't many places I like to visit repeatedly but St. Augustine is close enough for a long weekend, far enough (and weird enough) that you feel like you're actually getting away.
There's no place like home... no place like home...

All content on this site is owned by Degenerate Press and cannot be used without our permission. We have lawyers for friends with nothing better to do than cause trouble (no kidding), so play nice. Copyright © 2009, All Rights Reserved