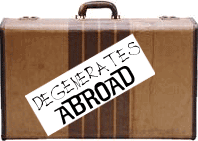 St. Augustine, Florida
March 2009
In the morning we sped through the visual wasteland that is the interstate drive through South Georgia, past the giant peach, the giant peanut, the not-so-giant-anymore King Frog.

We'd picked up a rental car for the trip but the first one we'd been given had a strange vibration at certain speeds, a tire out of balance or something. So I'd traded it in and upgraded to one with a port for EM's ipod, as well as satellite radio. It was worth the extra $3/day, especially in the radio-challenged areas of south Georgia and north Florida.
| | |
| --- | --- |
| A quick lunch and we're back on the road. The new Chrysler Sebring practically coasts at 95 mph. It was deceptively smooth and EM and I both had a hard time staying anywhere near the speed limit. Despite this, I wouldn't recommend the car. I don't like new cars with their jumpy acceleration (I'm used to the smooth thrust provided by a big V8.) It also has some fat pillars that make for some annoying blind spots - not enough to miss an entire vehicle but just enough to miss a pedestrian, as I found out on the way home. Fortunately we missed the old lady, depriving certain businesses of a customer for a little longer... | |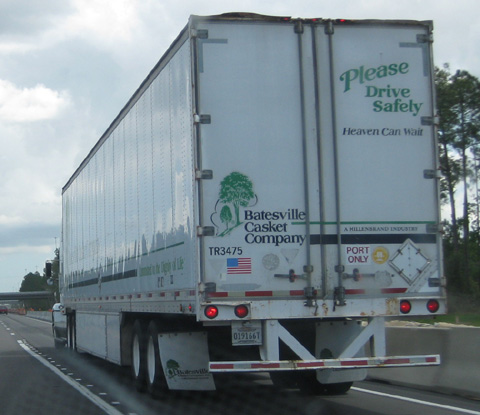 Over the inlets and rivers around Jacksonville ominous smoke rises in the distance into an otherwise perfect sky. Perhaps pirates have returned to St. Augustine, as they did in 1668 prompting the town to rebuild its forts and homes in stone instead of wood?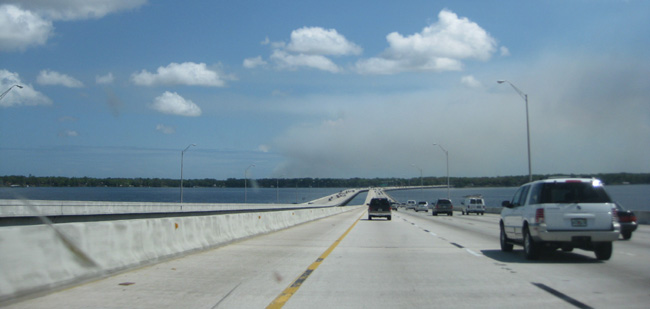 We never did find out what the smoke was from, skipping the local and all other news in favor of relaxing all weekend.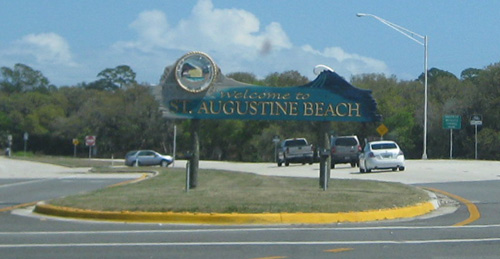 | | |
| --- | --- |
| We stayed at lovely Anastasia State Park between St. Augustine Beach and downtown St. Augustine. You have to make reservations months in advance for a camping site, but the park is lovely and right on the beach. A gopher tortoise hissed a welcome to us as we checked in. | |
The park's regular tent sites come with power, water, a picnic table and freshly raked sand. There are also bathrooms and showers, rental kayaks, a cute little grill and convenience store and a few nature trails.

However, the camping sites are very close together and there is no alcohol allowed in state parks (we didn't get hassled drinking a few beers or rum drinks, but we weren't exactly raising hell.)
We set up our tent under trees covered in Spanish moss and dripping with lizards - literally. One fell into the open tent door as I was inflating the air mattress.

With so many things provided ready at the park we didn't have much set-up to do. You're not supposed to leave food out due to the aggressive raccoons, no need for the table and chairs I'd brought, can't set up a bar in plain sight....

Screw it, let's head for the beach!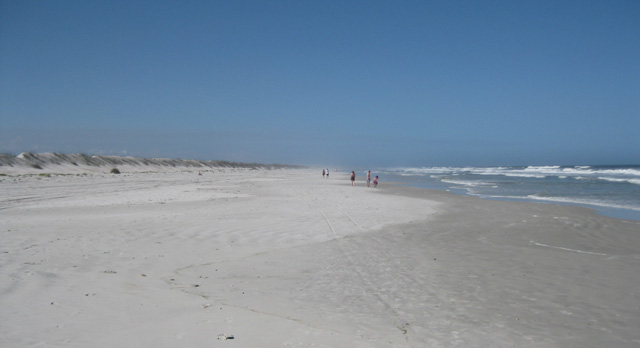 The beach at the park is lovely. No high rise condos, very little trash, not even that many people on a not-quite-warm-enough-to-swim weekday.
| | |
| --- | --- |
| We bought some boiled peanuts and flip-flops at the little beachfront convenience store and walked down the shoreline for a bit. We had noticed a lot of Canadian tags on the cars in the neighboring camp sites which must've explained the dozen or so kids able to tolerate the chilly water and mid-60's air along with a fair breeze. Neither of us Southerners would put more than a few toes in the sea. | |
| | |
| --- | --- |
| We hadn't planned for Thursday to be our beach day, since we'd arrived mid-afternoon and had to set up camp, so we gawked at a few shells and jellyfish before heading back to camp, already sunburned. | |
We headed into town in search dinner and landed at Madres on Aviles Street. Their fish tacos didn't impress either of us. The Baja variety just tastes like fried. No, not fried fish, just fried. The blackened didn't have much fish or blackened flavor. Meh.

They do have some excellent salsa and $1 beers during happy hour, so stop by for some chips and beer before dining elsewhere.
| | |
| --- | --- |
| | Then we wandered around town as the sun set, painting St. Augustine's lovely Spanish Colonial architecture shades of peach. The town is chock full of "America's Oldest _____" tourist trap nonsense - not as tacky as some faux tourist traps (Helen, GA, I'm talking to you...) but regardless you either have to genuinely enjoy this stuff or take it ironically. If you have no patience for Florida-style tacky or tourism in general you have no business in St. Augustine! |
St. Augustine has been bitten by the pirate bug like most of America, if not more so. The aforementioned pirate attack gives them some historical justification, I suppose, but it gets a little old. Also tiring - the endless hype about haunted/ghost tours. Add that to the fact that you have to exit through the gift shop at any St. Augustine attraction and I think the town motto should be, "St. Augustine - exit through the haunted pirate gift shop!"
| | |
| --- | --- |
| In fact, we stopped to take a picture of a random garden and were suddenly caught in the midst of one of these ghost tours as the guide stopped to tell of some encounter at the library I was apparently photographing. The look on EM's face just about says it all. | |
A similar look was inspired by every gallery we looked in. We joked about moving to St. Augustine where EM could make a living painting scenes of sailboats, pirates and the like while I take up pottery and gluing shells together to form pelicans. There's a lot of horrible art in Florida.
We had asked our server at Madres for a bar recommendation. She named three, "There's the St. George on St. George Street, the tourist strip. It's got a lot of locals though. There's the A1A Cafe - they brew their own beer and it's pretty good. Then there's Trade Winds. It's sort of a... different crowd."
She didn't say different how, so we decided to check it out for ourselves.
Trade Winds is St. Augustine's oldest bar, as is evidenced by their upcoming 44th annual Palm Sunday Music Extravaganza. When we arrived, around 9PM on a Thursday night, an open mike show was still in full swing with mostly acoustic cover music on a little side stage entertaining a mix of older tourists and locals. Since it's right off the main plaza and facing the water, I had expected all tourists, but there were plenty of people the staff knew by name and mugs hanging above the bar featured serious regulars' names painted right on the side.

The decor is Trader Vic's tiki, with nice wood carvings and bamboo and a massive painting of a Polynesian scene covering one wall, meets beachfront restaurant, with the usual fishing nets and blowfish lanterns. The bartender was very friendly and had a fair variety of rums to choose from, so right away I felt at home.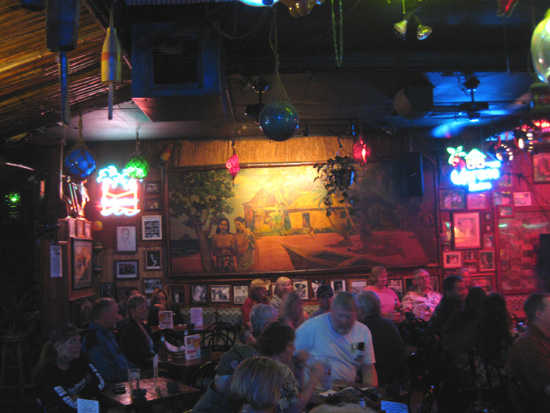 | | |
| --- | --- |
| Soon after our arrival the headliner of the night appeared on stage, Matanzas. They said they'd cover anything anyone requested - as long as it came with a tip and they knew how to do it. "We do rock and roll, rhythm and blues, country and western, and miscellaneous bullshit, " said the garden gnome leader of the band. | |
They proceeded to cover a fair breadth of material, from Freddy Fender to Alman Brothers to that annoying Kid Rock tune that riffs on Sweet Home Alabama (which we'd also heard the weekend before at Southern Comfort.)
We put our request in the jar, along with $5, giving them a variety to choose from, some of them just to see how they'd react: Frank Zappa, or Lefty Frizzel, or Otis Redding, or Neil Young, or MC5.

The garden gnome found our note and proceeded to tear it apart, line by line, discarding those they obviously didn't know. (I'm pretty sure it was the Neil Young that he stomped on when it hit the floor.) He promised us an Otis Redding tune but then did Drifters instead, then wandered off to something else, and something else, then realized he'd forgotten us and said he'd get to it. Meanwhile, he asked for tunes from the crowd, asking tourists where they were from and heckling the table of golfer yuppies in the front row. The guy was obviously having a great time and it was a fun night.
Pardon me while we take a break for this public service announcement on behalf of better beers everywhere.
Do you ever see a guy and instantly think "douchebag?"

Then you second-guess yourself, "Maybe I shouldn't judge a book by its cover."

Then the guy sits down next to you and orders a Bud Light.

Yeah.

Douchebag.
The name "Matanzas" is likely a reference to an old Spanish fort down the river named after some battle with the French or somebody. The name translates literally as "Slaughter", perhaps also a reference to the band's ability to cover certain tunes. We left during the band's second break. We never did hear that Otis Redding.
There's no place like home... no place like home...

All content on this site is owned by Degenerate Press and cannot be used without our permission. We have lawyers for friends with nothing better to do than cause trouble (no kidding), so play nice. Copyright © 2009, All Rights Reserved