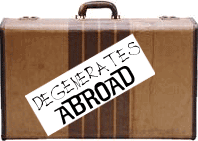 New Orleans to San Antonio to Galveston to New Orleans
November 2009
DN and I got up early to hit the road, kicking things off with another round of breakfast tacos before heading downtown to see some of San Antonio. I'd been told repeatedly that it's a pretty town and what little I saw was pleasant. They have some interesting architecture - a mix of deco and Spanish Colonial. But it being Sunday after Thanksgiving, there weren't that many people out and about.
Everyone told me "The Alamo is a lot smaller in person than you'd expect." So I expected a tiny little one-room shed, only to find a fair-sized chapel, surrounding park and barracks.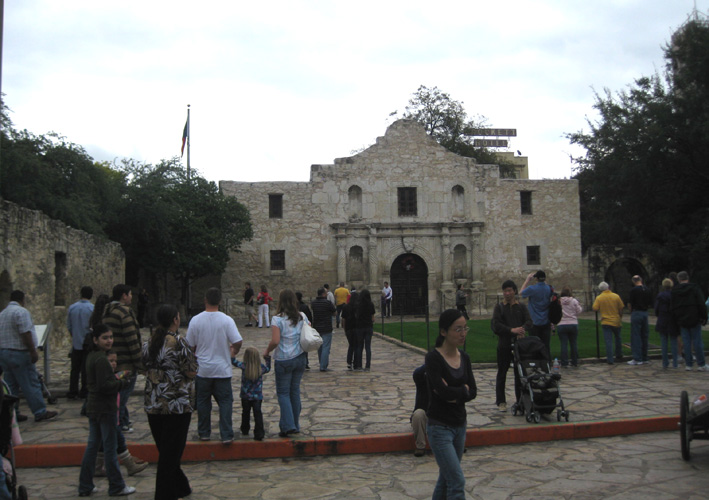 I'm supposed to be moved by the experience. They don't let you shoot pictures inside as "this is a memorial" and you're supposed to be quiet and turn off your phone. But then you walk into a massive gift shop that is floor-to-ceiling tacky crap and it is difficult to maintain reverence. However, they do have a very nifty model/diorama in the gift shop showing the grounds and the battle. The park is nice and there are several exhibits of archaeological finds and period guns and uniforms, and the whole thing is free. Worth checking out.
On the other hand, San Antonio's famed Riverwalk...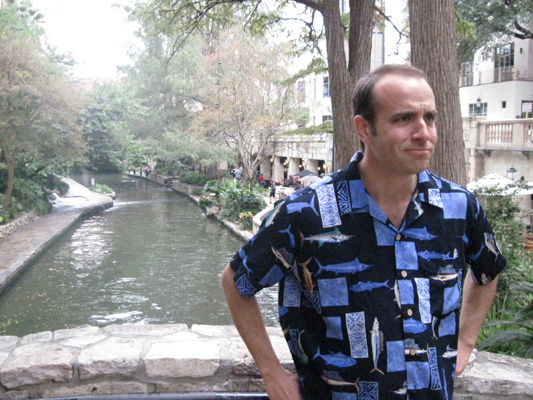 is crap. It's just a big outdoor mall with chain restaurants and hotel bars and a little creek up the middle through which they run tour boats constantly like some ride at Disney. I suppose the shade is pleasant during the summer months but it didn't do anything for DN or I. We walked a few hundred yards through the mall and got bored and left town entirely. We had another long drive ahead of us.
You know you're getting close to Houston when the entire horizon becomes one giant refinery, belching smoke and flame. Lovely.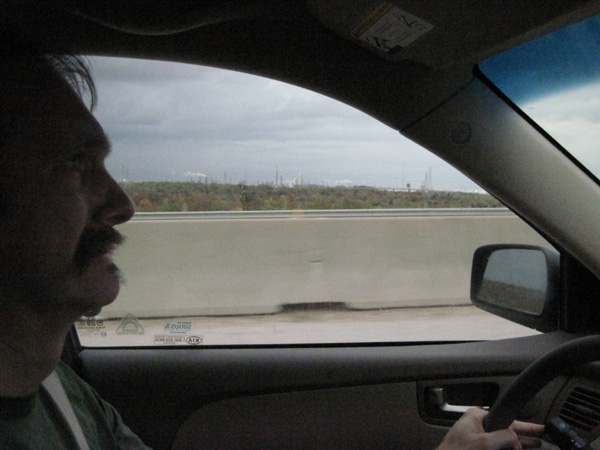 South to Galveston Island where it's easy to see how a hurricanes have wiped the island clean a few times. The entire place is only a few feet above sea level and there are hotels and such built in the sea itself, a few of which still show scars of previous storms.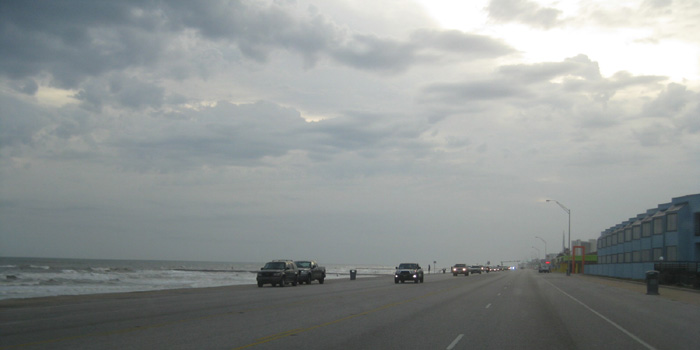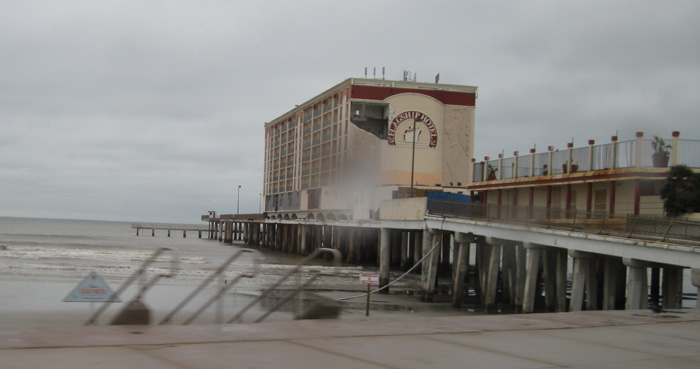 We had stopped at the Texas welcome center in search of some beach-front camping and found that the Galveston Island State Park was allowing tent camping, despite what their web site says. We checked in via the after-hours drop-box, set up camp and headed out in search of beer and seafood.
Out from the main drag a bit, we stumbled across Nates West End, a busy little restaurant and bar that serves up some of the best fried fare I've had. I went with a shrimp platter featuring a bit of all their varieties: blackened, fried, stuffed, and a "shrimp kiss," a shrimp stuffed with mozzarella and jalapeño, wrapped in bacon and deep fried - fantastic.

(Don't let the green beans fool you into thinking they're the healthy side item. They were floating in enough butter to drown a cat.)
We picked up a 12 pack of Shiner Bock, made just up the road a bit, then returned to camp for a walk on the beach. The moon was out and it would've been lovely, had it not been for a chilly wind that slowly picked up.

Eventually I wandered back to the camp and took shelter in the little concrete sheds they have at each site.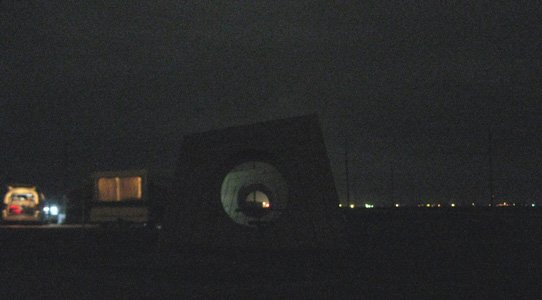 It was too early for bed, but there was nothing much else to do. A Texas Ranger had stopped us at the gate just to make sure we were camping, so we couldn't exactly go out and raise hell and take a chance driving back with any alcohol in us.

I figured in the morning we'd just want to get up and go, so after a couple of beers I was brave enough to try the showers. The water wasn't frigid but it wasn't exactly warm either.

DN booted up his machine so we could waste time checking email and such. Then we hit the sack relatively early, which would've been a good chance to catch up on the sleep I'd missed on RVI's couch and the brutal bed in the hostel in New Orleans.

However, at 3AM I was woken up by my tent dancing around me in gale-force winds. I got up and staked things down a little better but it hardly made a difference. It was like trying to sleep in a kite. To make matters worse, my air mattress had developed a leak, leaving only the thin layer of vinyl and my sleeping bag between me and the ground.

I considered trying to sleep in the Kia but figured it wouldn't be any more comfortable and just rode it out, catching maybe 4 or 5 hours of sleep total.
As the sun came up the wind and rain continued. Water started seeping through the tent walls and the flapping nylon wouldn't let me sleep, even with ear plugs and an eye mask. I finally conceded defeat. Fuck you, Galveston. You owe me a donut.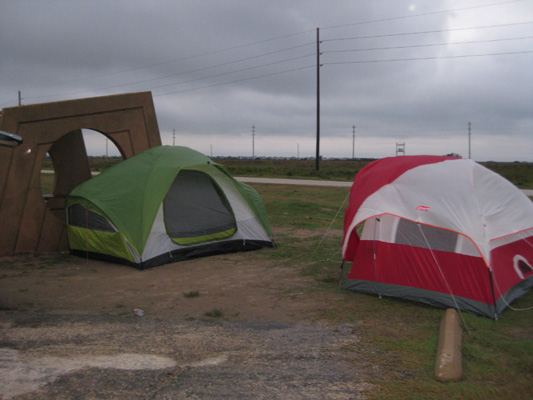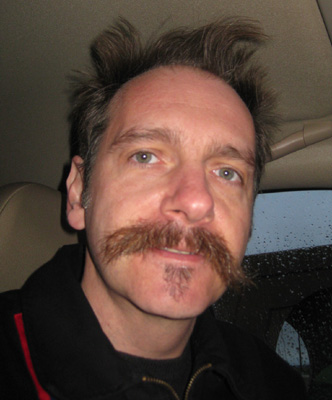 | | |
| --- | --- |
| We packed and headed out, amazed that there were surfers out at 7AM in the frigid weather. At the northeast end of the island we drove the Kia onto a ferry to get across the mouth of Galveston bay so we could cut off a leg of Houston rush hour traffic and head east, cruising along the coastal highway that is all of 6" above sea level, only a row of concrete barriers keeping the dunes at bay for many miles. | |
Eventually the road takes a turn inland, as a big section of highway has been washed out to sea by some hurricane. All along the road were signs of destruction - debris along the road, the pilings of former beach houses standing like severed trees, and signs for buildings that have been reduced to concrete pads.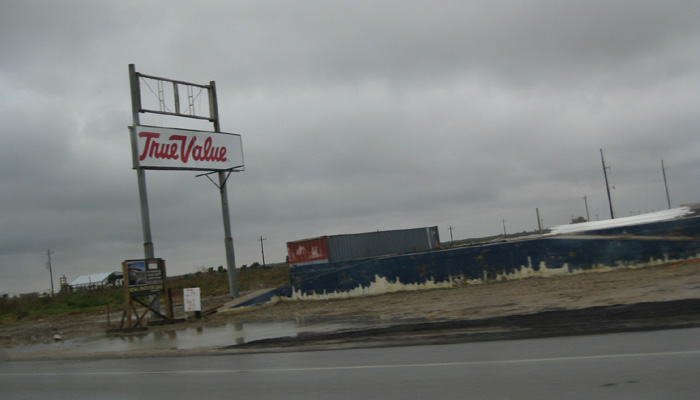 Yet people are still building - or rebuilding - right on the beach. Row after row of pastel-hued homes rising on two-story pilings, some built by the appropriately named "Sandcastle Construction Company."
We stopped at the Louisiana welcome center looking for something new to do on the way back but the weather put us off camping and New Orleans was only a few miles off the direct line for home. Though we doubted we could top the perfect Thanksgiving evening we'd had, we opted for another mind-numbing sprint through the swamp to get back to the Big Easy.
There's no place like home... no place like home...

All content on this site is owned by Degenerate Press and cannot be used without our permission. We have lawyers for friends with nothing better to do than cause trouble (no kidding), so play nice. Copyright © 2009, All Rights Reserved