Degenerate Press
Welcome to Degenerate Press' feature article. If this isn't enough you can always subscribe to Electric Degeneration, our semi-weekly and semi-weakly ezine, or surf the Electric Degeneration archive.
---
Dragon*Con, Drive Invasion, Blues Barbecue
Labor Day weekend 2004


The cars weren't the only beauties on the lot!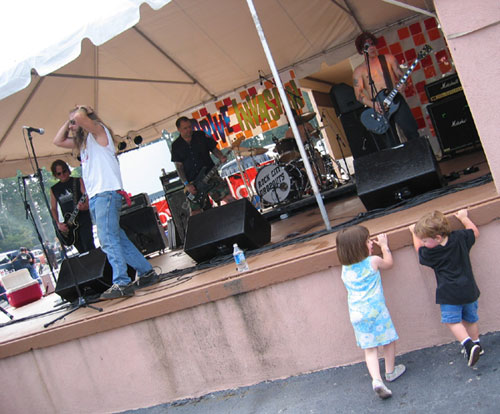 "Hey, babe. Cute dress."
Rock City Dropouts took the stage, bringing heavy/hard stuff with catchy hooks.
| | |
| --- | --- |
| The Earl had a grill set up for burgers, dogs, and the veggie alternatives. Good stuff, though slightly overpriced. | |
| | |
| --- | --- |
| | Fortunately, "the corndog lady" was there as well. She hand-dips and fries the best dogs ever. I had three or four jalapeño dogs over the course of the weekend - damn tasty! |
| | |
| --- | --- |
| Johnny Knox built "Trailer Vic's," a tiki bar complete with tables and art on the walls. He mixed up tasty drinks for tips all weekend. | |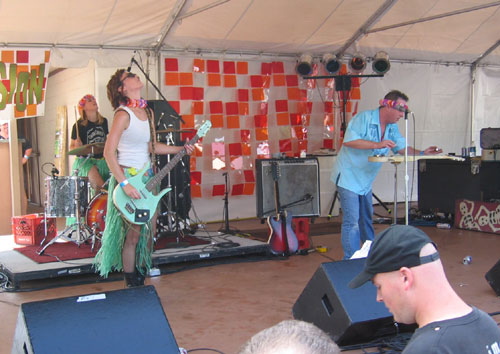 Jimmy and the Teasers cranked out bluesy, punky garage noise.
I took this shot just before Jimmy's epileptic dancing landed him and his slide guitar
on the stage in a big, comical heap. He continued to play/wrestle with the thing anyway.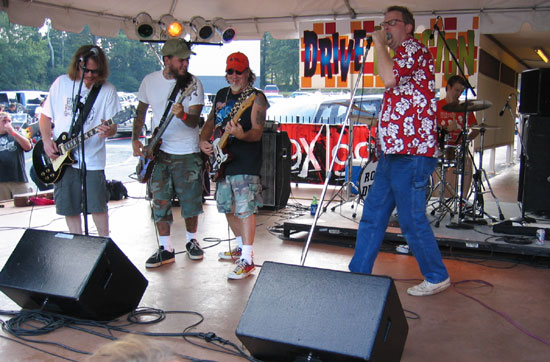 Truckadelic reunited (and it felt so good) for the show, minus original bassist JD.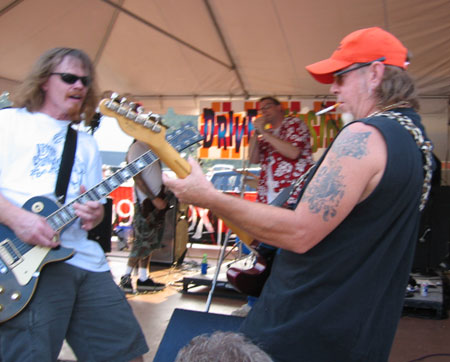 They had an impressive portion of their original energy, however,
and did a great set of my favorite fucked up southern punk.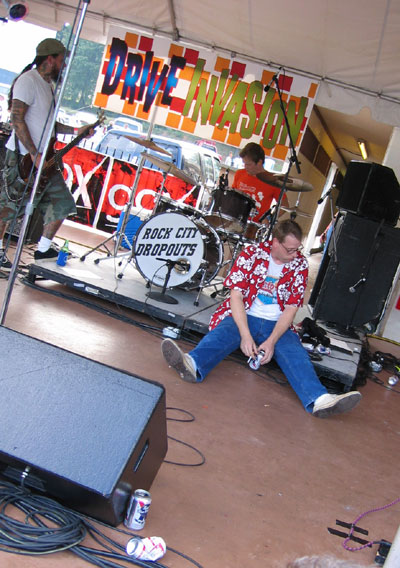 "I'm getting too old for this shit."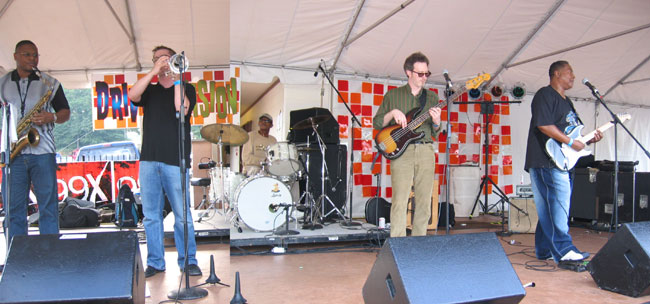 The Bo Keys cranked out funky soul numbers, adding a laid back vibe to the beautiful sunset.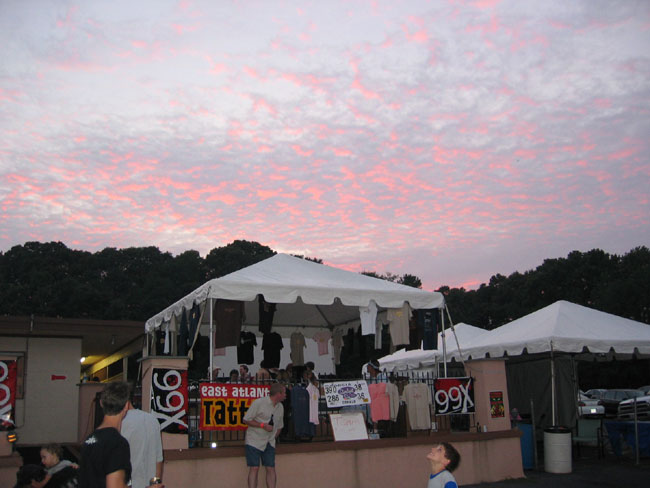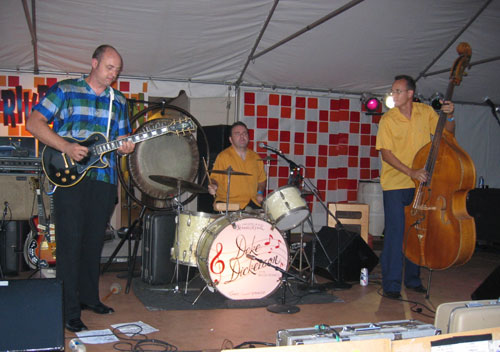 Last up, Deke Dickerson and the Ecco-fonics, super smooth rockabilly.
Deke's fingers are so nimble he made the guitarists in the crowd grumble.
"Shit, I'm gonna sell all my gear..."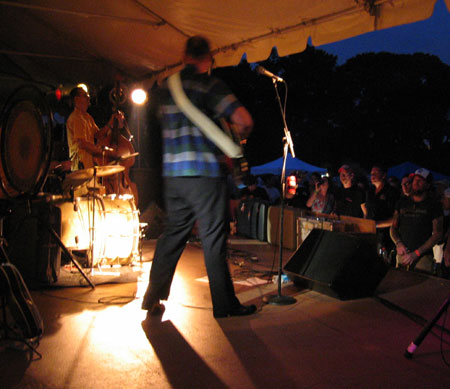 A little after dark the movies flickered to life, starting with a movie that was a classic in my tribe, Repo Man. I'd probably seen it a dozen times or so, but it was still fun to see it, especially on the big screen and unedited for TV. Some of the Repo Man virgins gave it high marks afterward.
13 Ghosts "in Illusion-0" followed, a William Castle "classic" from 1960. Illusion-O is an effect where you're given a viewer with a red lens and a blue lens. If you don't believe in ghosts you're supposed to use the red lens, filtering out the cheesy ghost effects. If you believe in ghosts, or you just want to see what everyone is laughing at, use the blue lens. Unfortunately, the blue lens filters out the background - everything but the ghost. Just watching the movie without the viewer turned out to be the best option, since then you could see both. Actually, not watching the film at all would be ideal - it's terrible. But it provided a few laughs.
Not nearly as many laughs as Revenge of the Cheerleaders, the third feature. The seventies were a strange time and this film tries to show every bit of strangeness. It's difficult to describe because telling you the plot would be pointless - it's inconsequential to the film. There's a lot of softcore near-pornography, lots of bad, punny sex jokes, the random choreographed dance numbers in between locker room shower orgies. Then there's the scene where Soopy Sales bastes a turkey with his own urine sample. It's almost a surrealist picture and swings from confusing to hilarious to just plain odd with manic glee. Definitely worth seeing. (And yes, that is a young David Hasselhoff in the film, though I don't know that he has more than a line or two.)
After a long day in the sun and a long evening of movies I couldn't stick around for the final feature, Switchblade Sisters. We headed home while other stuck around, camping overnight to keep the party going.
---