Degenerate Press
Welcome to Degenerate Press' feature article. If this isn't enough you can always subscribe to Electric Degeneration, our semi-weekly and semi-weakly ezine, or surf the Electric Degeneration archive.
---
Tour of the Southwest
Phoenix, Tucson, Grand Canyon, Hoover Dam, Las Vegas
October 2004
We got brunch in the Sahara's cafe, a big club sandwich and a Bloody Mary for SW, some kind of turkey, bacon and avocado sandwich for me, washed down with a $3 orange juice. We'd find later that the buffet upstairs was much more affordable, particularly during the week, but we didn't know any better on our first morning.
| | |
| --- | --- |
| We decided to head down the strip and catch a few sights. We glanced at the ticket price of a few shows - Blue Man Group, the joust at Excalibur, etc. and decided they didn't sound like they were worth the money. They start around $50 each for the crummy seats and go up from there. On the other hand, we didn't hesitate to drop $100 in a few minutes of gambling so we might've been better off paying for a show... | |
Instead, we were searching for the free and cheap entertainment in Vegas. We kicked things off at The Venetian, the famed bridges of the Italian city turned into bridges over the parking entrance, complete with moving sidewalks for those too lazy to actually walk a few yards up and down a slight incline.
Inside is a shopping mall complete with a fake canal and real gondolas. The ceiling is painted to look like they sky and is done perfectly. The winding streets of Venice are replicated in Disney style - wide avenues, handicap and elderly accessible, perfectly clean - in other words, the streets of Venice are not replicated so much as caricatured with a capitalistic utopian eye.
Many of the halls and rooms are replicas of Venetian palaces and churches. It's spectacular, really. It's a little depressing though. I couldn't help but think it was built one nickel at a time, thanks to the slot machines sucking away the savings of the slot zombies in the casino below. And that it was built out of context, without the culture and inspiration that built the original, is proof that Americans have little regard for history or culture - we just want distracting spectacle. And it's pretty damn spectacular. I hate to keep using the word, but when you wander from Venice to Caesar's Palace to New York to a glass pyramid in a three block stretch, spectacle is the only word that fits.

We hit the Guggenheim at the Venetian. You can pick up $2 off coupons around the place, but it's still not worth the visit. There are only three rooms in the museum, so $12 feels like a rip off. The current collection is themed "Vices" or something like that. It's a few paintings about music, drinking, romance, etc. Some nice works, but not worth the admission.

We sampled the gelato in the food court. Not great, but their other food options looked better than the usual mall food court offerings.
| | |
| --- | --- |
| | Next up, a walk through the mall, AKA Shops of the Forum or something like that, at Caesar's Palace. They have a couple of fountains with fake marble sculptures in them that are sorta pretty, but the real deal is the animatronic show they put on every hour. This one transforms into... |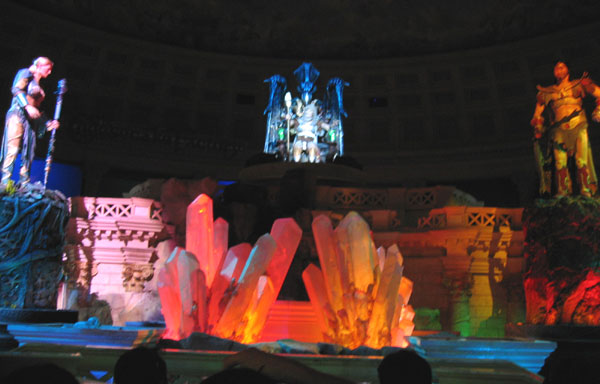 (Appropriate that the sign behind the fountain is for the Cheesecake Factory.) The guy on the throne in the middle was supposed to be the king of Atlantis, the other two his daughter and son. The siblings were arguing over who got to rule Atlantis next. The daughter would "summon" these "ice" crystals from the fountain, while the son would respond with fire and steam.
| | |
| --- | --- |
| It could've been cool. Technically, it was impressive. The fountain changed, belched fire and fake smoke, the ice crystals rose and fell, the waters boiled, the prince's sword flamed up, etc. But the rubber skin on the statues wasn't perfect and buckled in strange places when their limbs moved, making them really creepy. Then there was the lame story about how their sibling rivalry was the cause for the sinking of the whole island, complete with a projected head on the ceiling as God pronouncing their sentence. Then the whole mess sinks back into the fountain as the dragon-shaped throne comes to life. | |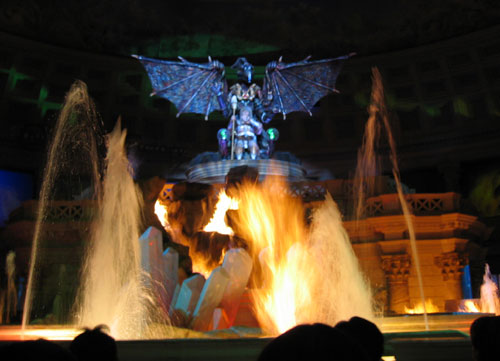 I came away shaking my head, both in amazement and disappointment. It's incredible that so much labor, thought, time and money could be sunk into something so tasteless and unsatisfying. The entire place is covered in hand-painted faux marble finish, impressive trim, massive fake sculptures, fountains, everything. The Romans would've loved it. It's definitely worth the price of admission - free!
We walked over to The Mirage to check out Siegfried and Roy's white tiger. No, I don't think this is the one that chomped on Roy. Or was that Siegfried?

Anyhow, The Mirage also sports Siegfried & Roy's Secret Garden, as you can't help but notice if you walk within four blocks of the place. It's advertised everywhere, leading many to ask "Just how secret is it?" You might also ask yourself if you really would want to see Siegfried & Roy's actual Secret Garden. Maybe you do, but I just don't swing that way. Especially if I'm gonna pay $12 a person. Besides, you can see one of the white tigers for free on the way into the building, complete with albino palm trees. No, they're not real, but after a while it's hard to tell what is real in Vegas...
We skipped it and headed into the casino for a couple of drinks. The Mirage casino is done up in a vaguely island/jungle/tiki theme. We found a little bar area and opted to pay for drinks instead of gambling. A lady played piano a few yards away. Just around the corner there was a stage area where a large jazz band played. Around the corner from that was another live act. A lot of the larger casinos have live entertainment in and around the casino floor, sometimes several acts at once. It really is the entertainment capitol of the world, even if the "free" entertainment ain't always that great.
Speaking of, we headed down the strip to Treasure Island to catch the live pirate battle that happens several times a night in front of the casino. There's a big artificial cove with two ships in it and I'd seen many Vegas shows on the Travel Channel and the like that featured the pirate act so I was looking forward to it. Degenerate DC had been impressed with it the last time he'd seen it, but they'd changed the show since then. The current version is called Sirens and the posters featured some pretty women dressed in vaguely pirate-like outfits.
We got what we thought was a good spot for the show, picked up a couple of drinks from the sidewalk "Margarita Bar" that serves nothing but daiquiris, and settled in for a long wait. Eventually the players assembled and the show began. Unfortunately, our spot wasn't that great and none of my pictures came out worth a crap. You'll just have to use your imagination as I narrate as best I can.
The Sirens' ship was "docked" and the ladies came out on deck and gave some odd speech (or lipsynched the speech broadcast over the loudspeakers) about defending their treasure and seducing pirates to their doom. They were dressed in sort of Halloween "sexy pirate" costumes as if they were designed by Christina Aguilera - fishnet hose on a pirate?
As if the costumes weren't silly enough, they began singing. The Christina Aguilera costumes were matched by the bad music:
Take a little bit of honey
And a whole lotta sugar
And shake it
Shake it
No wonder they said women were bad luck on ships...
A small sloop with a lone pirate came along and was seduced by the Sirens' song (he must've been at sea a long time) and was taken prisoner by the Sirens. Why he'd complain at that point, as they stopped singing to tie him to the mast and basically make out with him, I have no idea but we were supposed to believe that part was torture, not the music.
His butt-pirate friends came to the rescue, sailing in on their ship adorned with a giant bull skull. After some back and forth taunting the pirates opened fire with their cannons, resulting in massive fireballs from the dock behind the Siren's ship - pretty impressive. The Sirens opened fire with their song and the pirate ship was covered in explosions and began to tilt and sink before our very eyes.

Yet again I was amazed with the technical feat, and amazed at how lousy the artistic expression was.
The pirates all abandoned ship, some doing impressive flips from the high rigging. The Sirens sang in celebration, then the pirates climbed onto their ship for a big fight/dance number. Degenerate DC said the last time he saw the show it was a battle between pirates and the navy and there was no singing or dancing. Apparently that wasn't "Vegas enough" for Treasure Island, or "T.I." as the Sirens kept calling it, so they jazzed it up a bit. Jazz-hands-ed it up, I should say. Simultaneously spectacular and awful, something that could be said for the city as a whole.
Out on the strip is a little shopping mall with a huge canopy I nicknamed The Flying Surfboard of Doom. They use it to project ads onto. It provides some shade during the day, I guess, but I think it's mostly just to get your attention.

According to some info SW emailed me, "Fashion Show recently completed the first phase of its $1 billion expansion showcasing 250 extraordinary shops and restaurants with eight department stores. There are daily house fashion shows, which run multiple times daily, several days a week. One of the mall's most unique features is a large multimedia cloud outside the Strip entrance, making it possible for passersby to see what's going on inside. The cloud will be lighted nightly and combined with four moving video screens known as the Media Curve to broadcast special events occurring inside."

Can you believe they spent a billion on that?!?
We ended up at The Frontier where they had "Bikini Bull Riding" at midnight in Gillley's. It was a little before midnight so we gambled a bit but I was too tired to stand at the craps table. I could probably enjoy craps a lot more if they'd let you fuckin' sit down. We ended up sitting at the bar instead while DC poured money into the quarter slot machines built into the bartop. We made jokes about new catchphrases for Las Vegas:

What money you take to Vegas stays in Vegas!

They win some, you lose some.

A little before midnight I wandered over to Gilley's to get the scoop on the bikini bull riding. $15 cover, but it included all the draft beer you could drink. I was momentarily impressed, until a couple of passers-by said it was a bait and switch. Once you paid the door girl $15 and got in, out of state residents had to cough up another $10 at the bar for the beer. The place was packed wall to wall with cowboy-hat wearing guys and bad country music blared loudly. It didn't look like you could've seen any bikini bull riding without pushing your way through the cattle by force, so we decided against it and headed back to The Sahara. I think we played a few hands of blackjack just for the free drinks before calling in it a night.
---