Degenerate Press
Welcome to Degenerate Press' feature article. If this isn't enough you can always subscribe to Electric Degeneration, our semi-weekly and semi-weakly ezine, or surf the Electric Degeneration archive.
---
Tour of the Southwest
Phoenix, Tucson, Grand Canyon, Hoover Dam, Las Vegas
October 2004
We meandered around Phoenix in the morning with our hostess, then headed off into the desert, south towards Tucson.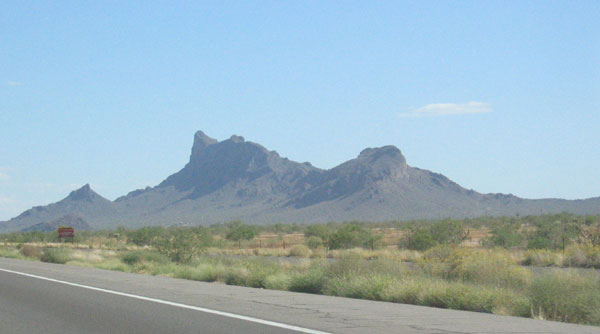 Miles and miles of sand, scrub and cacti with rocky hills off in the distance, punctuated by dancing dust devils. We stopped at the Gila Indian Reservation gift shop and museum, but didn't find much to look at and less we wanted to buy, so we got back on the highway and sped on. And on. And on. I can't imagine the first humans to stumble into this place thinking, "Yeah, I could live here." But they did, and they've been flooding into the place ever since. Phoenix and Tucson have been growing in leaps and bounds with the aid of air conditioning and water piped in from afar, proving that humans are nothing if not adaptable.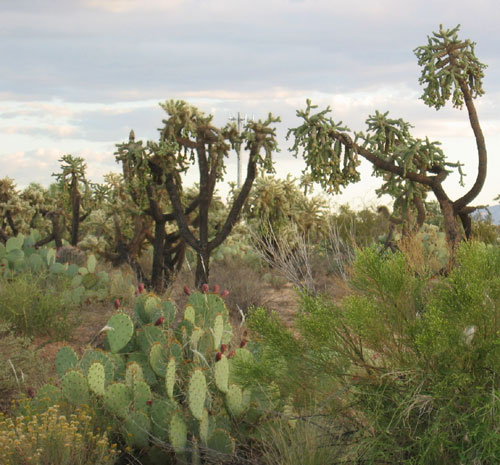 Some of the freaky cacti that thrive around Tucson.
Tucson is smaller than Phoenix but shares the "everything brown" architecture for the most part. Our hosts live out in the 'burbs where the residential communities are all surrounded with block walls.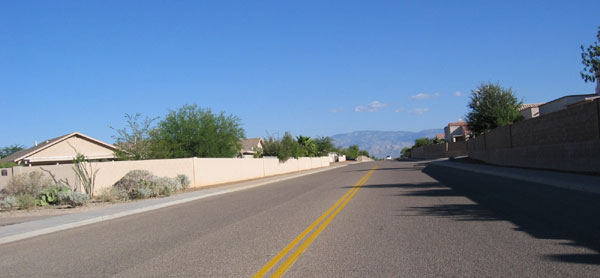 Driving around the neighborhood, I felt like a Mongolian looking for an opening in the Great Wall. We asked our hosts why everyone walled in their yards. "They just do. Everyone does it. Plus it helps keep out the snakes." I guess if you have kids playing in your yard you want to keep them in and the environment out. Our hosts have a swell pool and a small patch of grass, but the neighbors go for the au naturale look - barren sand and rocks.
We had dinner at some family-friendly Mexican place in the 'burbs, good food and service but our hosts have a year old kid and weren't up for late night shenanigans.
In the morning we headed downtown. We swung by the visitor's center to get an idea of what options were available. We headed a few blocks over to Old Town Artisans, a collection of interesting shops, a restaurant and a bar all in a 150 year old adobe building surrounding a quiet courtyard. The shops are mostly jewelry, pottery and other artsy crafty stuff. We picked up a few trinkets for friends and family, then headed a few more blocks down the road to wander around 4th Ave., Tucson's artsy shopping district hosting some fun thrifty stores, trinket shops, and lots of neighborhood bars.
| | |
| --- | --- |
| We relaxed in Che's Lounge for a few $1 pints and admired their collection of really interesting paintings. | |
| | |
| --- | --- |
| Then we stopped at some random sidewalk cafe and had a tasty lunch. A big fat hummus sandwich for me, a bowl of gazpacho for SW. | |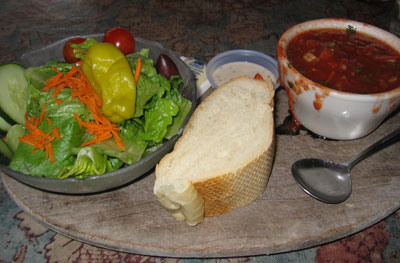 On the way back to the 'burbs we stopped at San Xavier del Bac mission, still serving the reservation on which it sits, surrounded by ramshackle shacks and yards full of debris. The surroundings may be a little depressing, but the mission itself is a gem. They're renovating the exterior so much of it is obscured by scaffolding, but the interior is still glorious despite the fading colors.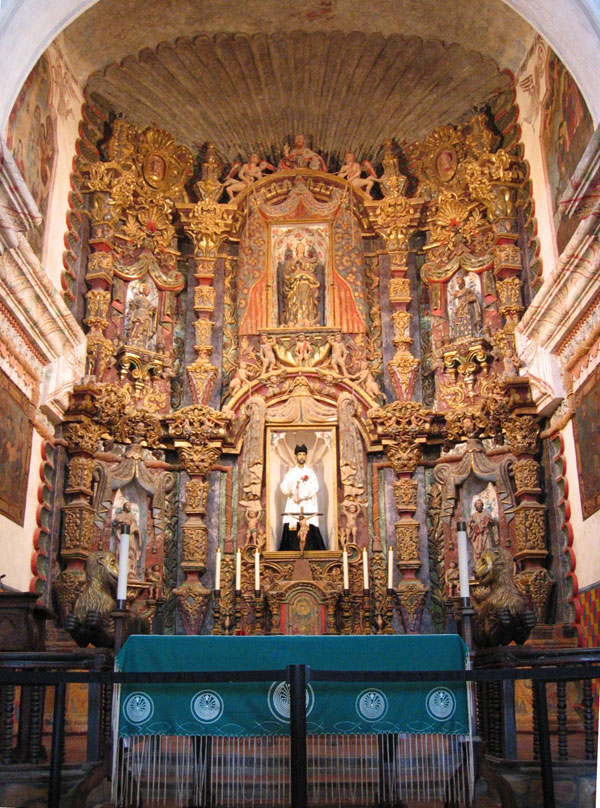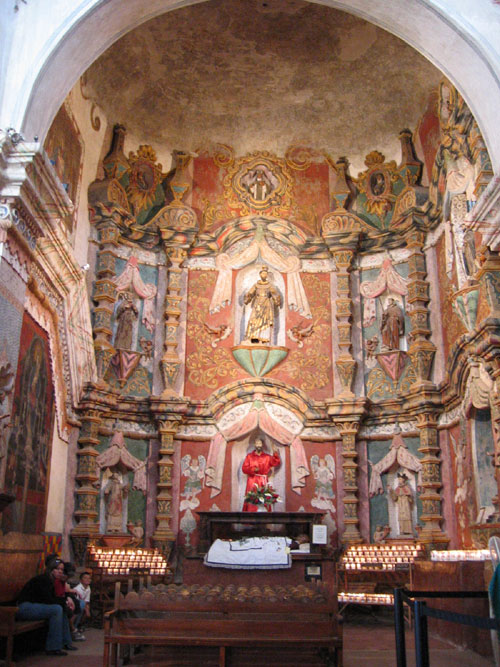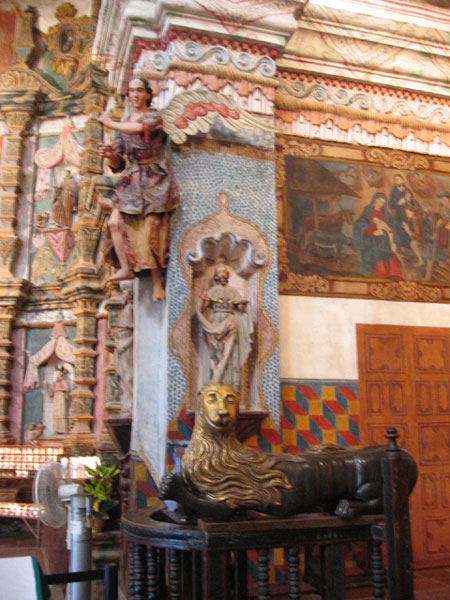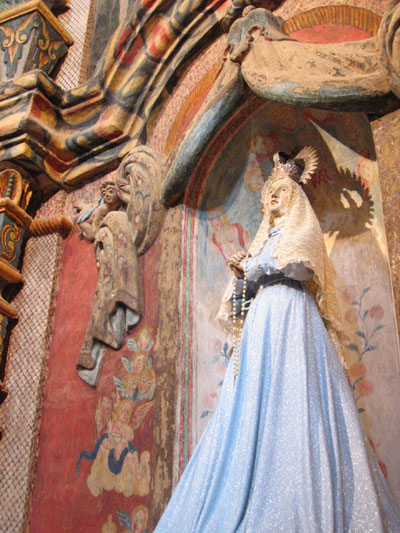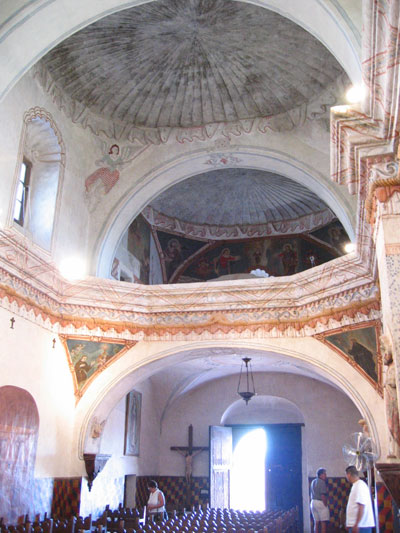 | | |
| --- | --- |
| | There were two or three dogs snoozing on the cool tile floor. As we left, they were closing up for the day and excommunicated the beasts. Outside, one of their friends went to the door and sniffed, as if sad to be locked out of the cool shade. |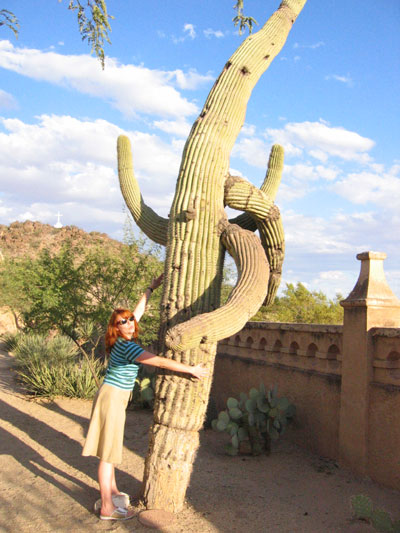 Have you hugged a cactus today?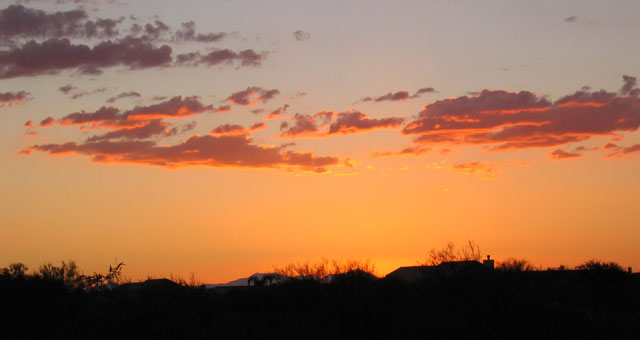 This photo doesn't do the scene justice. There are some spectacular sunsets out there.
We wrapped the night up with a backyard cookout. Our host, a member of the border patrol, told horrifying tales of finding lines of executed people, victims of a scheme by the smuggling cartels. The cartel would get them into the country for their up-front fee, then hold them hostage if their families didn't fork over more. The families didn't have the money, so they'd line up their transportees and shot them in the back of the head. "We'll find 5, 10 of 'em with lined up, hands tied behind their backs and their heads blown off."
The cartels apparently weren't making enough money with that scheme so it doesn't happen as often as it used to, but they still find dozens of bodies a month out in the desert, often victims of the environment.
He also told tales of massive drug busts and the occasional Muslim prayer rug.
---