Degenerate Press
Welcome to Degenerate Press' feature article. If this isn't enough you can always subscribe to Electric Degeneration, our semi-weekly and semi-weakly ezine, or surf the Electric Degeneration archive.
---
Tour of the Southwest
Phoenix, Tucson, Grand Canyon, Hoover Dam, Las Vegas
October 2004
| | |
| --- | --- |
| We got some breakfast and headed down to the strip to see some of the sights we'd missed. We kicked things off at the Bellagio, perhaps the most opulent of the casinos in Vegas. The ceiling in their lobby is a bunch of Chihuly glass flowers, incredible. | |
| | |
| --- | --- |
| They have a little garden area past the lobby which changes seasonally. It was done up in fall colors, complete with pumpkins, a running water mill, and giant glass leaves suspended from the ceiling as if they were falling. Impressive. | |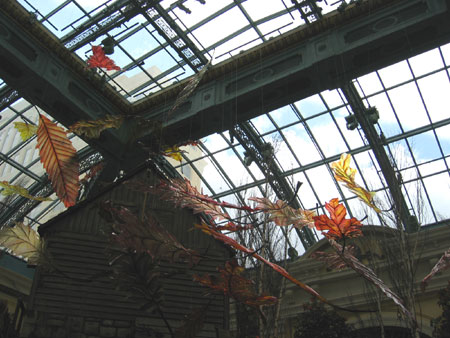 | | |
| --- | --- |
| We headed down the block to Excalibur, the fantasy/medieval-themed casino. They have nightly shows, a joust complete with dinner for $45 or so, but I've seen plenty of that stuff at Renaissance fairs and conventions and such. Instead, we had a few beers and relaxed a bit before charging on. | |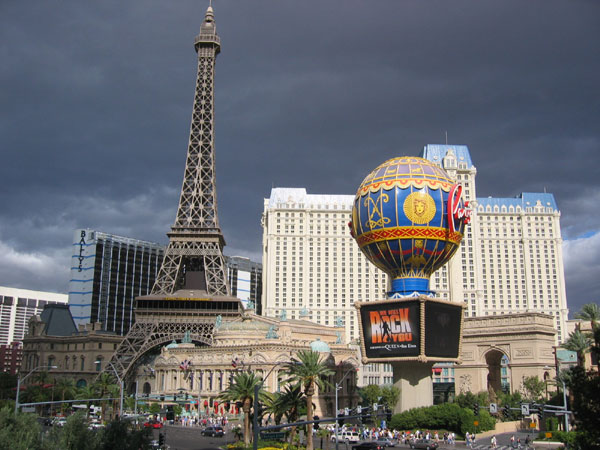 Outside, a storm was brewing. The wind was kind of chilly and we wandered on and on in search of a sweater for SW that didn't have Las Vegas written on it, with no luck.
| | |
| --- | --- |
| | We ended up catching a little shuttle ride from Excalibur to Luxor. It's an impressive sight, but they've blocked off the view of the Sphinx with the tram station. Lousy planning! |
| | |
| --- | --- |
| | I always figured it was a big solid pyramid, but actually it's hollow. The walls of the pyramid are the rooms of the hotel, inside the balconies of the floors form an inverted step pyramid above. I had to paste this picture together - my digital camera doesn't have a wide enough angle to capture it all. |
| | The ground floor is a sprawling casino, of course, surrounded by Egyptian decor. |
| | There's a terrace level above the casino with shops, auditoriums and such. We wandered around for a while, then decided we wanted a view from above. Unfortunately, the elevator we tried required a room key. No, make that inclinator - because of the slanted shape of the walls, the elevator has to travel on the diagonal, thus they call it an inclinator, not elevator. |
| | |
| --- | --- |
| We decided to head back to the hotel and change for our last night on the town. We made a stop at the "world's largest gift shop" for a few trinkets for the degenerates back home, got gussied up and headed back out. | |
The name tag of one of the busboys at the Sahara Buffet said he was from Hawaii. Over breakfast, we'd chatted with him a bit and found out the name of a little Hawaiian restaurant a few blocks away - Island Kitchen? Something like that. It turned out to be more than a few blocks away, but it was well worth the cab fare. Some damn fine Hawaiian and other Pacific rim foods, and a bar next door to boot. We got a drink while waiting on a cab.
| | |
| --- | --- |
| We hit the strip again, hoping to catch the fountain show at the Bellagio, maybe force the pirate show on the newbies, etc. Unfortunately, the stiff winds put a damper on all the outside shows. Everything was cancelled. We wandered up the strip, past a lot of the casinos we'd only seen by day. | |
| Ah, those lovely Parisian nights... | |
We weren't sure what to do for our final night in town. After a while all the casinos seem the same. Once you get past the impressive facade, they all have the same slot machines, same table games, same waitresses serving the same drinks. Several times we had to look at the name tags of the waitresses to figure out where we were.
We decided to go for the ultimate in Vegas fakery and return to The Imperial Palace. On our previous trip through the casino we'd noticed a group of table games with a sign overhead reading "Dealtertainers!" As we passed by we noticed several celebrity impersonators as dealers - The Blues Brothers, Tina Turner, Michael Jackson, Ricky Martin. So we headed into the casino and happened to find a couple of folks leaving their spots at a table. We settled in to play blackjack, dealt by Stevie Wonder. Of course we made the same jokes he probably hears every time someone new sits down. "Wow, I'm getting beat at blackjack by a blind dealer!"
Stevie took a break from dealing and climbed up on a small stage in the center of the pit and belted out a few tunes karaoke-style. He didn't look a whole lot like Stevie, despite the wig and the wardrobe, but he could definitely sing like Stevie! While he did his number, Janet Jackson took over as our dealer. We fared better against her, but then Gloria Estefan took over and just about cleaned us out. Meanwhile, Ricky Martin lip-synched his numbers on stage. He had the dance moves down, had the frosted hair and wardrobe, but apparently wasn't up to Ricky's vocal "talent." I think Michael Jackson did a number or two in there. Pat Benetar belted out some of her 80's classics. Streisand dealt at the table next to us, but apparently didn't perform.
The Dealertainers really mess with your head. In fact, a lot of Vegas turns your brain inside out. After a while it's difficult to remember that all these phony representations of other places and people are fakes. It's hard to remember that New York New York is an actual place. Venice? I was there this morning, right? That wasn't real? It seemed real. Maybe the casino is the real thing and the city is the fake? But why visit the actual city - the long plane ride, the smelly canals, the dirty streets, the old hotel rooms, and all those foreigners...
Seriously, a few days in Vegas is about all I could take. There were a few sights I'd wanted to see that we missed, but the manufactured reality starts to take over and it feels like a dream you can't shake.
I stepped outside in an effort to catch the volcano erupting in front of The Mirage across the street. I turned the corner just in time to see a final burst of flame and smoke, then it died. I assembled the rest of the gang and we headed up the strip in hopes of getting into Stratosphere for a few rides, the view, etc. only to find it closes late in the evening. Wow - something in Vegas closes? Wait, is it night out? Or is that just a painted sky? What time is it? Our flight was only a few hours away and it seemed pointless to sleep. We'd only oversleep and miss the plane. We stumbled back into The Sahara and gambled away a few more hours, a few more dollars down and a few more drinks up. Then we headed to the room to pack. I was glad to be leaving town. I couldn't have sat at a blackjack table another night, but we didn't do enough research on alternatives before we left. So as the sun came up at the lights on the strip dimmed, we boarded the plane headed home.
Or was that just another ride in a casino?
---