Degenerate Press
Welcome to Degenerate Press' feature article. If this isn't enough you can always subscribe to Electric Degeneration, our semi-weekly and semi-weakly ezine, or surf the vaults.
---
Fantasm
April 2004
More Saturday Night
| | |
| --- | --- |
| | I returned to the parties, finding stranger and stranger things going on, both inside and out. Practically everywhere you looked someone was doing something you wouldn't normally see in public, sometimes even in private. |
Studio 54 finally opened up with some hot disco action – hot literally and figuratively. I love the occasional dance tune so I hopped around in manic glee for a bit until I spotted the cute pirate couple again. They were in their second or third costume of the day, joining in with a band of partythirsty pirates and running room to room yelling "Aaarh" and telling bad pirate jokes. Unfortunately, they'd had a bit too much rum and walked like they were on the deck of a boat in a tossing sea. But it did provide for the best photo of the lot – pirate booty!

Even before this picture I'd decided this couple had my award for Cutest Male-Female Couple. Not only are they cute, they're damn nice people and come with a closet full of costumes!

Later, I returned to Studio 54 only to find they had abandoned disco for techno. What the hell?!? I guess they were trying to match the crowd's tastes, but still nobody danced. I think it was just too damn hot.
| | |
| --- | --- |
| | Around the corner, degenerate BM had a little party going with various fetish and pin-up art on display, Betty Page movies flickering on the wall, and a couple of girls playing with toys on a mattress. |
| | |
| --- | --- |
| | The freaky purple glow is from a Violet Wand, a static electricity ball on the end of a rod, pretty nifty. |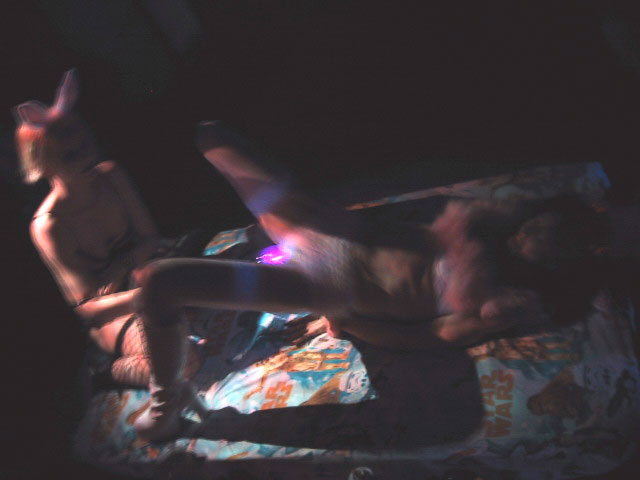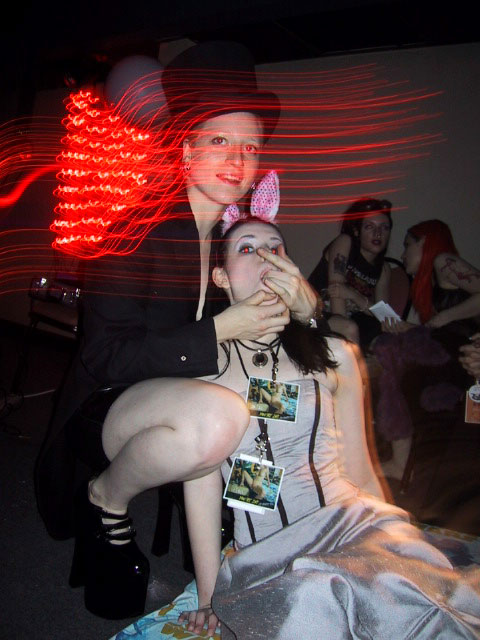 Though you can't see it in this photo, the lovely girl in the hat gets my award for Best Hair.
Great shoes too.
| | |
| --- | --- |
| | I met the lovely and talented Katzen, one of the celebrity guests for the weekend. We wandered through a few parties together, resulting in another confusing yet fabulous photo. This gets my award for Sexiest Threesome. |
| | |
| --- | --- |
| | I hung out with her for a while, but I had the feeling she had the attention span of a cat in addition to her other feline characteristics. Then I got paranoid that she thought I was following her in stalker fashion so, like a dumbass, I flat out told her if she was ready to ditch me it wouldn't hurt my feelings. |
| | |
| --- | --- |
| | Minutes later a guy with a suitcase full of toys had her full attention. It made for a heck of a show! |
---