| | |
| --- | --- |
| Back in 2006, the Too Much Coffee Man opera debuted in Portland, OR. EM and I went to see it, as much for an excuse to vacation in Portland as for the opera itself, and had a blast. So when Shannon Wheeler, author and artist behind TMCM, expanded the work to a second act it seemed a convenient excuse to return to Portland. EM's best friend, LK, had moved there and I figured while I was on the left coast I might as well see my brother, JN, in San Diego and make a long pacific rim tour of the affair. | |
JN picked us up at the airport and sped home to get ready for a show. His band, Black Hondo, was performing at a sidewalk party as an unofficial part of some local neighborhood festival. We arrived at the host's house with beer and liquor in hand to find JN's pork butt, after smoking on the grill all day, laid out on the cutting board, ready to eat. I couldn't stop stuffing hunks of the delicious meat in my mouth. JN had rubbed the outside with some hot spices and it had cooked so slow it was tender and juicy - perfect.
| | |
| --- | --- |
| | As if tasty pork washed down with a bottle of rum weren't enough, some local boys cranked up some passable rockabilly with Spanglish moments. Good for about one set, but when asked to do another it was obvious they had played the few songs they knew well and struggled to stay together for their encore tunes. But they're like 17 years old so what the hell. The crowd that gathered on the sidewalk loved 'em. |
| | |
| --- | --- |
| Black Hondo followed, sounding vaguely like Patty Smith fronting Black Sabbath. Not bad for their first public appearance! | |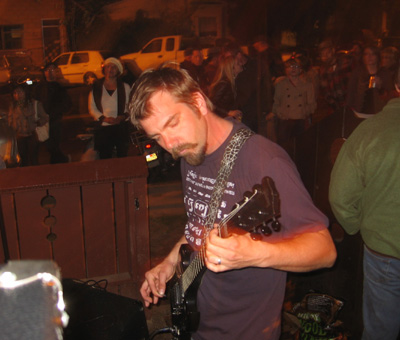 The hosts grilled up some kebobs to lure passers-by into lingering. Free music, free food, free beer - my kind of party.

During a break EM and I slipped around the corner for some tacos, then later for coffee and a slice of cake, all from local stores in the South Park area, a cute little village of bars, coffee shops, restaurants, etc. There were a few sidewalk vendors selling artsy craftsy trinkets but we hung with JN and his wife, RB, until the party wound down. We hit a local bar, the name of which escapes me, then called it a night relatively early. EM and myself were feeling the 3 hour time difference.
There's no place like home... no place like home...

All content on this site is owned by Degenerate Press and cannot be used without our permission. We have lawyers for friends with nothing better to do than cause trouble (no kidding), so play nice. Copyright © 2008, All Rights Reserved