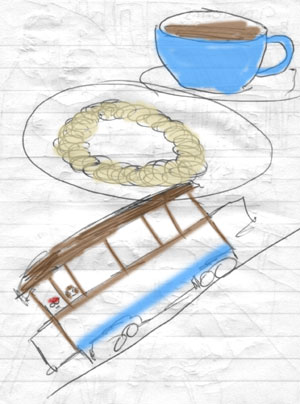 | | |
| --- | --- |
| | After a stop at a coffee shop with internet access for the annual Degenerate Press April Fools email, we headed back to City Lights for a proper visit. They still keep a strange collection of interesting reading, including the Beats they helped launch. |
| | |
| --- | --- |
| Then it was back to the cable car, a charming and incredibly inefficient way to get around. It's loud, cold, requires two stout men to operate, and there are often lines just to get on the thing. | |
| But, unlike with subways or speedy trains and taxis, you get to see things from a cable car. And you get the added terror wondering what would happen if the brakes failed... | |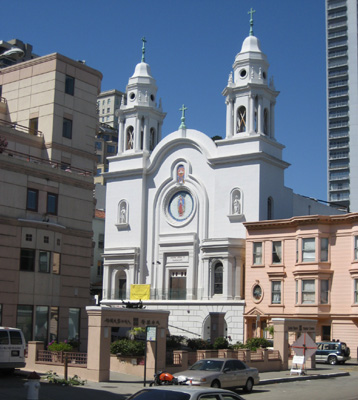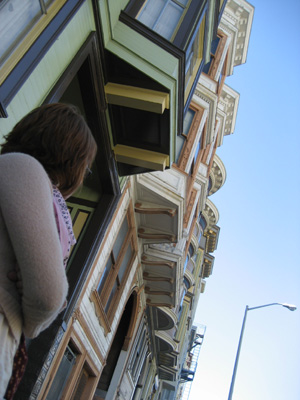 | | |
| --- | --- |
| | We headed across town to the Mission neighborhood in search of Dave Eggers' store, tacos and other distractions. |
| | |
| --- | --- |
| | I had forgotten the name of my favorite burrito place in San Fran so we ended up at Taqueria Cancun, recommended by Let's Go and now recommended by me as well. Their pork burrito is delicious! |
We hit Dave Eggers' store, 826 Valencia, a pirate-themed shop featuring some of his publications as well as housing a tutoring classroom for children. It's a nifty store full of odd trinkets, trap doors, and t-shirts. Then we wandered the neighborhood, perusing a fantastic Voodoo/Santeria shop and my new favorite store on earth, X-21 Vintage. The cornucopia of heads in the store front is cute, but inside they have some of the most amazing furniture and strangest odds and ends I've ever seen. Massive chrome lamps on tripods that look like weapons out of the old Flash Gordon movies were my favorites. EM was partial to the creepy taxidermy dog.

The Mission has all sorts of fun stuff to look at.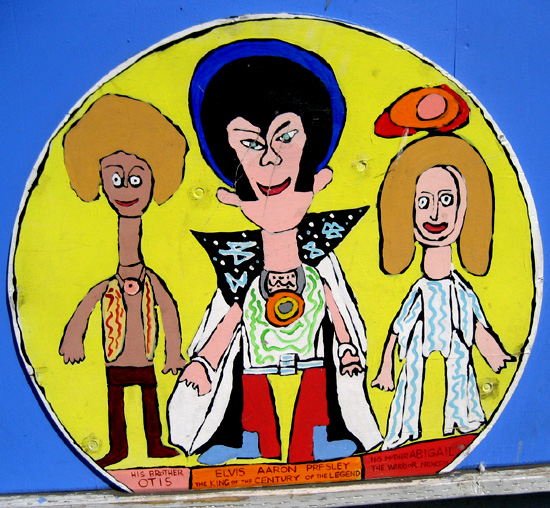 | | |
| --- | --- |
| We trekked back to the streetcar line and rode it to Pier 39, the touristy spot where the sea lions live, en route to our hotel. It must be off season for the sea lions because there were only a couple dozen of them lounging on the docks, whereas last visit every dock was covered in barking sea lions. | |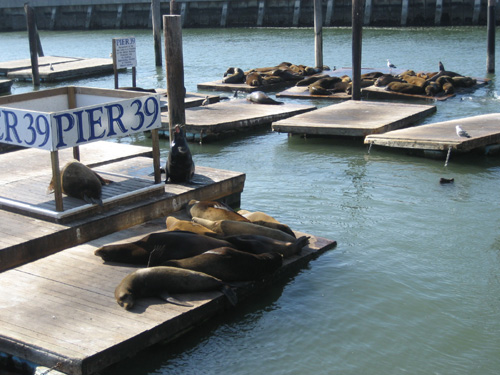 Alcatraz sits in the bay in the distance. It doesn't look that far to me so it wouldn't surprise me if Frank Lee Morris and company made it off the island alive.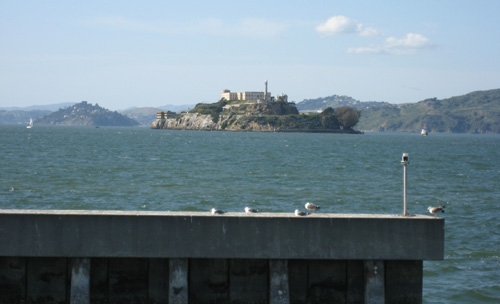 We took a much-needed break. We had intended on hitting happy hour at the Tonga Room or other watering hole but there's only so much we could cram into a day and still have the gusto to continue on after dark.
Night found us on the cable car headed up the hill, past the cathedral to my favorite row of bars, on Nob Hill along Polk Street.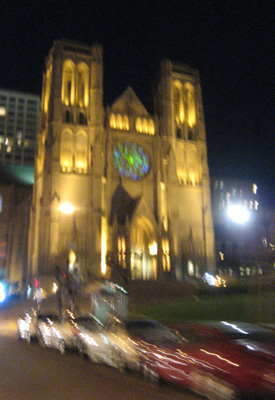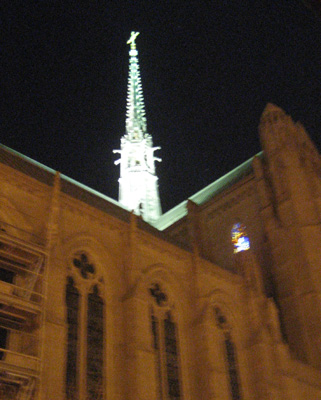 First up, Bigfoot Lodge, a faux log cabin filled with taxidermy animals like squirrels and raccoons, as well as a massive chainsaw-cut bigfoot. Friendly service, fair selection, chatty clientele, a good place to start or end a night.

There wasn't much in the neighborhood in the way of food recommended by Let's Go. We trekked down the block and looked at the menus of various places, but last time I'd had some very tasty Korean barbecue nearby so, despite EM's hesitation, we opted for one on Polk Street. After the first bite her fears were quelled...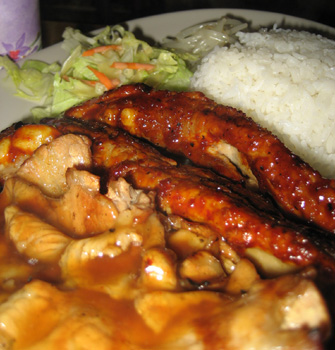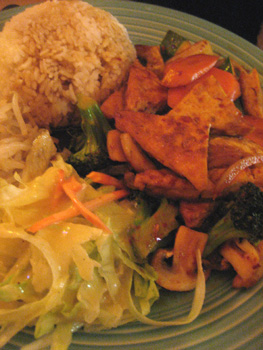 Though she got some tofu dish (damned vegetarians), she wouldn't shut up about how good it was. Spicy, sweet, crisp, chewy, all the complex sensations you want out of barbecue. I opted for some chopped pork and a couple of spicy ribs. The spicy option is definitely the way to go! Thankfully we were using up plenty of calories on our pedestrian travels...
We trekked down the block in search of a new bar and found Encore Karaoke on California Street. I had serenaded EM for her birthday last year so she demanded an encore performance this year. We climbed the stairs into the second-story bar and found a cute little gay bar/karaoke lounge mostly empty on a Tuesday night.
| | |
| --- | --- |
| I hate being the center of attention and I'm lousy in front of crowds so I drank heavily, trying to build up the courage. | |
As if being in front of a crowd isn't nerve-racking enough, this particular crowd had me distracted. It was like some kind of scene from HBO's Taxicab Confessions. They weren't characters, they were caricatures - the gay man who was so gay he exaggerated every word with a high pitched lilt and flailed his limp wrists around in Rip Taylor fashion; the fag hag who clung to every gay man in the place but looked crushingly depressed when alone for even a moment; the drunken, mustached regular who horned in on every act trying to make it a duo; the guy in the business suit who sat silent and alone all night but got up and belted out the most spot-on show tune you can imagine - one after another a person would appear and within minutes reveal some other, often dark side.
Eventually we called it a night before I was brave enough to reveal my dark side, i.e. my inability to perform in front of a crowd, much less sing.
There's no place like home... no place like home...

All content on this site is owned by Degenerate Press and cannot be used without our permission. We have lawyers for friends with nothing better to do than cause trouble (no kidding), so play nice. Copyright © 2008, All Rights Reserved