RB got up for work at dawn, waking me up. Due to the time difference, I couldn't fall back asleep. Eventually I admitted defeat and got in the shower.

While the others resurrected themselves, I sat in the back yard admiring the Dr. Seuss plants they have out on the west coast. I was reminded of early explorers and their attempts to document all the new plants and animals they found, things that were mundane to the natives. I can imagine my words as an echo of theirs, "Wow, look at that! What in the hell is it?"
But then a look over the fence at the back of my brother's house brought me back to reality...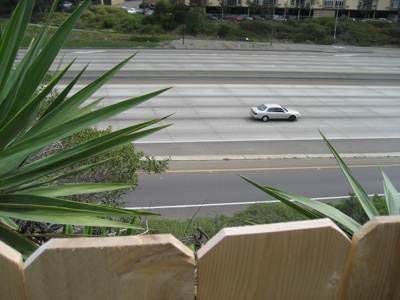 At least things were quiet on a Sunday morning.
| | |
| --- | --- |
| We headed to Big Kitchen for breakfast - a massive egg and veggie quesadilla for EM, eggs and bacon for me (had to keep up the pork intake), and coffee to get us moving. | |
| | |
| --- | --- |
| | RB joined us for a jaunt around North Park, another San Diego neighborhood village, this one chock full of thrift stores, cafes, head shops, book stores, etc. |
| | |
| --- | --- |
| We stopped in at some craft fair but it was too crowded to even get in the door so EM and I wandered the streets, gawking at this strange wig shop. | |
When we returned to the car, I spotted this sign. I somehow feel less safe knowing I'm being watched. Frankly, it creeps me out.

And what exactly is "interactive" about it? If I wave, does the camera say "hello"?
| | |
| --- | --- |
| Then it was out to La Jolla, a town perched on the Pacific with lovely views between galleries and shops full of overpriced crap in buildings that look like something straight out of Disneyland - pretty but sterile. | |
We stopped at a storefront full of the most obscene garbage I've ever seen - gilt sculpture, jewelry and antiques for the rich and tasteless.

For example, this massive bronze Jewish God holding Jerusalem in his hands, perhaps 4 feet tall. Who buys this stuff?
But my personal favorite for bejeweled uselessness was this ruby-encrusted football player. Or perhaps the gold-gilt octopus music box behind him. Or maybe...

The store was packed with stuff I couldn't believe even existed, much less for the prices they were asking.
| | |
| --- | --- |
| We stopped at the local museum of contemporary art, a small place with a sometimes challenging collection of works from the 60's and later. Some of it was crap, some of it was cool, but it was almost worth it for the view alone. They have a great panoramic window overlooking the rocky coastline with surfers and sunbathers below - lovely. | |
We wandered out into their sculpture garden and stumbled across a long yellow hose snaking up the sidewalk.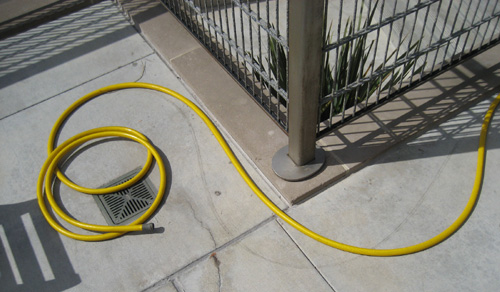 You ever stop to make a joke about something only to discover...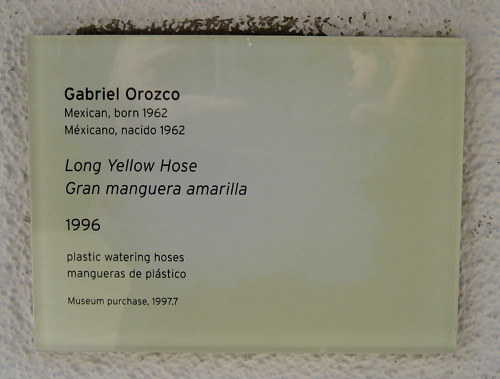 But La Jolla isn't all bad. There are a few old Spanish style buildings, the sun was shining, palm trees swaying in the salty breeze, gulls soaring past... Southern California at its finest.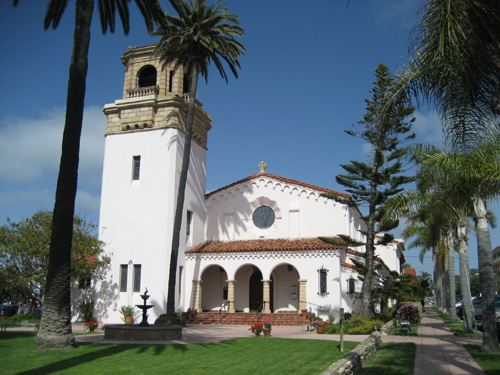 | | |
| --- | --- |
| On the way back to San Diego, we stopped at a Mexican joint recommended by my brother, the name of which escapes me. We started off with an appetizer of hand made tortillas and queso with peppers - excelente! | |
| | |
| --- | --- |
| JN and I went for a variety of tacos, all delicioso. I think it was one fish, one pork, one beef, but I didn't take notes - I was too busy eating. | |
EM went for some soy chorizo thing. She raved but I didn't sample it. Chorizo is not a plant!

RB went for Posole, a traditional Mexican stew made with hominy and random other ingredients. It was fantastic with a surprisingly complex variety of flavors.
| | |
| --- | --- |
| | Then it was off for drinks at The Turf Club, a horse track themed restaurant and piano bar where you order your dinner then grill it yourself. The drinks were reasonable and strong, the food looked decent (if you knew what you were doing on the grill) and the joint was packed with young people on a Sunday night - definitely recommended if you're looking for a fun place to take a date, or possibly meet one. |
| | |
| --- | --- |
| | The Turf Club closed a few decades back but was refurbished and reopened a few years ago, drawing a hiptser crowd. We were glad they had kept much of the original decor, including the goofy "horses on their way to the track" wallpaper. |
| | |
| --- | --- |
| | Unfortunately, things got off to a bad start for us. The piano man for the night, Richard Johnson, showed up and immediately knocked over our drinks when sitting his bag on the bar. Only then did I realize we were sitting practically on top of his piano. |
| | |
| --- | --- |
| | The man with the double phallic name proceeded to play lounge tunes and little else. When he asked for requests, he didn't know any of the tunes we asked for - and we were trying to think of ones he might know. He seemed grumpy and the waitress claimed he liked to show up drunk. Rumor has it their other piano guy is a lot of fun and other folks in the room really enjoyed Johnson. Me, I could go the rest of my life without hearing "My Way" done Sinatra's way yet again. He sells his music on those new fangled cassette tapes the kids are all playing in their Pintos these days. |
Again we called it a relatively early night. JN and RB weren't ready to sleep so they snuck out for a nightcap while EM and I crashed.
There's no place like home... no place like home...

All content on this site is owned by Degenerate Press and cannot be used without our permission. We have lawyers for friends with nothing better to do than cause trouble (no kidding), so play nice. Copyright © 2008, All Rights Reserved