We returned the rental car in the morning and hooked up with CM, LK's significant other, at the nifty Portland train station. I wish Atlanta had half the transit options and bike lanes Portland has. You'd think in a town with miserable cold rain, nobody would bike or walk but everyone does. Atlanta, with sunshine most of the year, has lousy transit and nobody walks anywhere.

Speaking of, the weather turned on us, finally. Cold, rainy, windy - my least favorite. If it's going to be cold and wet it might as well snow, but it rarely does in Portland.

Love the town, hate the weather.
| | |
| --- | --- |
| We got a late breakfast at Gravy, a delicious bacon, basil, cream cheese and tomato omelet for me, an interesting salmon hash brown thing for EM as well as a huge biscuit drowned in vegetarian gravy. CM got eggs and a massive country fried steak that looked so good I had to get a bite. It was pretty damn tasty. | |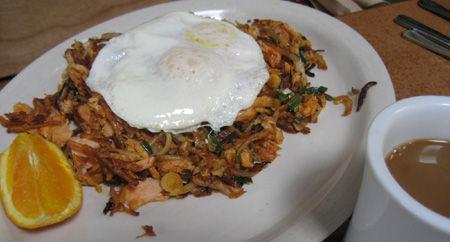 We returned to Powell's, the biggest book store I've ever been in. They mix their used stuff in with the new so if you're looking for something you might find it cheap.

Then we rambled all over Portland. It's not that big a town but it's packed with cool buildings, most of which have been repurposed, often into chain retail stores I have no interest in but it beats the mall.

Sometimes they keep the facade of the old building and slip a new one in behind.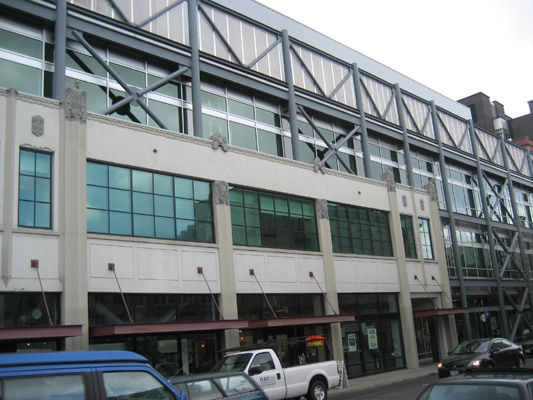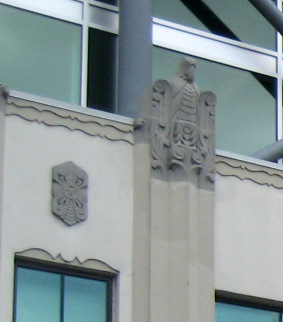 We headed across the river into the working class neighborhood of St. John's Bridge to poke around. We tried almost every bar on the few blocks of the village. A lot of bars in Portland give you a free half beer if you order straight liquor. Why? I have no idea. Some places you have to ask, and some places you don't get a choice as to what beer it is, but if you want a cheap drunk it's the way to go.

This particular bar featured an internet jukebox - nothing unusual in this day and age. But we couldn't get over the weird obviously-pre-internet photo decorating the thing, complete with a jukebox in the background that plays records. Ah, post-modernism...
| | |
| --- | --- |
| We hit the Salvation Army where EM put on some glasses that, combined with a coat she'd borrowed from LK, gave me a glimpse into the future... | |
We headed further down the block to St. John's Theater and Pub, another McMenamins joint. From their web site, "Built in 1905 as the National Cash Register Company's exhibit hall for Portland's Lewis and Clark Exposition, this spectacular building was barged down the Willamette River to its current location where subsequent incarnations included Lutheran Church, American Legion Post, bingo parlor, and home for Gypsy wakes. The ever-evolving dome was later reinvented as Duffy's Irish Pub and finally, St. Johns Theater & Pub. Faithfully continuing in its role as neighborhood pub and gathering spot, the ornate dome-topped citadel shows recent releases of the silver screen, cult classics, and art films for a reasonable $3 admission price. Of course, there are plenty of McMenamins handcrafted ales, wines and spirits and food to enjoy during the movie."
The domed roof was open inside to make a very cool ceiling over the movie house. But most of us had seen Juno, so after a beer and plate of hummus we wandered on.
| | |
| --- | --- |
| Past the fencing school adorned with photos of Iron Maiden's Bruce Dickenson... | |
| | |
| --- | --- |
| to Slim's Bar and Grill, a place I can only assume was named ironically, as every patron in the place weighed at least 300 pounds. The food looked decent but we had passed a Mexican joint that looked interesting so we trekked across the street and had yet another round of tacos and burritos. | |
| | |
| --- | --- |
| The sign out front says, "Panaderia Taqueria Tienda Mexicana" - "Mexican Bakery Restaurant Store" - and they display some amazing cakes out front. Bakery racks were covered in donuts and pastry and they offered a variety of groceries for a Latino meal. But the real deal is their carnitas burrito from the little restaurant in back - holy shit, it's good. | |
We headed back to LK's neighborhood and had a nightcap at Crowbar, a nice place but, like most of Portland, absolutely eaten up with hipsters. Everywhere you look in Portland is a young face, often pretty and well dressed by current standards, being cool.

I can't blame them for flocking to the town. At some point someone used the phrase "hipster's paradise" and for the entire week I had Coolio's Gangsta Paradise in my head, except Weird Al kept butting in. I didn't know the lyrics to either version, but one of these days I'm going to make a spoof of them, with apologies to Coolio and thanks to Weird Al.

As I roll around town on my fixed-gear bike
Forty dollar t-shirt and jeans skin tight
Hit the record store to stock up for my second job
Spinning records at a bar for apathetic snobs
Place used to be a dive 'till the hipsters found it
Now no blue collared workers even come around it
Got to get up early for the daily grindin'
The coffee beans to make the drinks my friends are buyin'
I'm so cool that I'm cold, I don't give a fuck
About the world or the people who are down on their luck
I'm the kinda dude that the yuppies envy
Selling graffiti as art at the corner gallery

We've been wasting most our lives living in a hipster paradise
We've been wasting most our lives living in a hipster paradise...

If there is such a place, it's Portland. Record, book and comic stores everywhere you look, cool bars, bike paths, thrift stores, galleries, coffee shops, live music, brew pubs, cool old buildings taken over by American Apparel...

But there's also a housing shortage caused, in part, by all the hipsters moving there. The weather sucks 90% of the time and how the hell can you be cool and hip when everyone is cool and hip?

Gangsta's Paradise, by Coolio

As I walk through the valley of the shadow of death
I take a look at my life and realize there's nuttin left
Cause I've been blastin' and laughin so long that
Even my ma'ma thinks that my mind is gone
But I ain't never crossed a man that didn't deserve it
Me, be treated like a punk, you know that's unheard of
You better watch how you talkin, and where you walkin
Or you and your homies might be lined in chalk
I really hate to trip, but I gotta loc'-
As they croak I see myself in the pistol smoke, fool
I'm the kinda G the little homies wanna be like
On my knees in the night
Sayin prayers in the street light

We been spending most our lives living in a Gangsta's Paradise
We been spending most our lives living in a Gangsta's Paradise
We keep spending most our lives living in a Gangsta's Paradise
We keep spending most our lives living in a Gangsta's Paradise

Look at the situation, they got me facing
I can't live a normal life, I was raised by the strip
So I gotta be down with the hood team
Too much television watchin' got me chasin' dreams
I'm a educated fool with money on my mind
Got my ten in my hand and a gleam in my eye
I'm a loc'ed out gangsta, set-trippin banger
And my homies is down, so don't arouse my anger, fool
Death ain't nuthin but a heart beat away
I'm livin life do-or-die-a, what can I say?
I'm twenty-three now, but will I live to see twenty-fow'?
The way things is goin' I don't know

Tell me why are we, so blind to see
That the ones we hurt, are you and me

We been spending most our lives living in a Gangsta's Paradise
We been spending most our lives living in a Gangsta's Paradise
We keep spending most our lives living in a Gangsta's Paradise
We keep spending most our lives living in a Gangsta's Paradise

Power and the money, money and the power
Minute after minute, hour after hour
Everybody's runnin, but half of them ain't lookin
What's goin on in the kitchen, but I dont know what's cookin
They say I got ta learn, but nobody's here to teach me,
If they cant understand it, how can they reach me?
I guess they can't; I guess they won't
I guess they front; that's why I know my life is outta luck, fool!

We been spending most our lives living in a Gangsta's Paradise
We been spending most our lives living in a Gangsta's Paradise
We keep spending most our lives living in a Gangsta's Paradise
We keep spending most our lives living in a Gangsta's Paradise

Tell me why are we, so blind to see
That the ones we hurt, are you and me
Tell me why are we, so blind to see
That the ones we hurt, are you and me
There's no place like home... no place like home...

All content on this site is owned by Degenerate Press and cannot be used without our permission. We have lawyers for friends with nothing better to do than cause trouble (no kidding), so play nice. Copyright © 2008, All Rights Reserved