I had considered taking the Pacific Coast Highway the whole way but after looking at the travel times I realized the entire week would be spent driving. And how many times can you get a dramatic, sweeping view of the coast before it stops being dramatic? Instead, we opted to fly to San Fran and drive from there. We missed a lot of stuff along the way, but it gave us time to actually see San Fran and other places.
| | |
| --- | --- |
| If you're going to San Francisco be sure to wear some flowers in your hair. | |
But first, stop off at the San Diego golf course cafeteria for breakfast. The food is decent, but the view is fantastic.

Hummingbirds flitter over flowers in the gorge-cum-golf-course with the city skyline in the distance and a tiny glimpse of the pacific beyond. If only it weren't broken up by the occasional passing jet and loudspeaker calls for tee-off times...
| | |
| --- | --- |
| | One plane ride, one train ride, and one cable car ride later, we arrive at our hotel, San Reno, a very European experience, i.e. tiny rooms, shared bathrooms, thin walls, and a staff chatting away in a language we don't understand. |
The view from our room was great - if you wanted to see who was staying in the room across the 4' wide courtyard.

On the plus side, it's a block from the cable car route, 2 blocks from the streetcar, and on the edge of San Fran's Little Italy, one of my favorite neighborhoods just for the food.
The last time I was in San Fran I wandered into this neighborhood by accident. I stopped for a cup of coffee at a cafe that reminded me of my favorite sidewalk cafes in Italy. I lounged in the sun and struck up a conversation with an old guy next to me. Eventually I pointed to a row of restaurants, "Which one of those serves the best lunch?"
"Any of them."
"No, seriously, this is my last day so..."
"You could eat at any one of those places. They're all great."
So I walked across the street and checked the menus in the windows and picked one at random and had a fantastic meal. Why mess with success? This time EM and I ate at the same place, L'Osteria al Forno, just across from Caffé Roma on Columbus.
| | |
| --- | --- |
| We started off with some roasted tomatoes covered in breadcrumbs and olive oil. Simple but tasty. We split a half bottle of wine, something light and fruity, perfect for a sunny afternoon. | |
| | |
| --- | --- |
| I opted for a salami sandwich on focaccia bread, also simple and good. | |
| | |
| --- | --- |
| But EM scored with homemade ravioli filled with homemade ricotta. The cheese was bursting with flavor, nothing like the stuff you get in tubs at the supermarket. Fan-fuckin-tastic. | |
After a pastry at a bakery up the block, we started our jaunt around town. Since we were in the neighborhood and it was a lovely day, we kicked things off with a trip up Coit Tower, one of the must-do's of San Fran in my opinion.

(I borrowed this photo from my 2003 trip.)
| | |
| --- | --- |
| For a few bucks you get an elevator ride up the 200' tower where you get phenomenal views of the city, including the skyline, surrounding hills, Lombard Street, Golden Gate bridge, Alcatraz - the whole town, framed in deco concrete triptychs. | |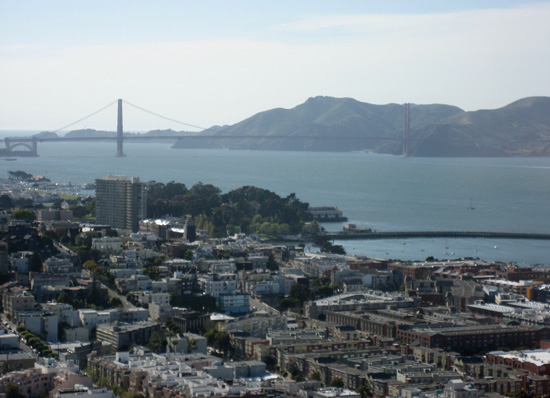 | | |
| --- | --- |
| As we walked out the door everyone froze. A flock of birds was zooming past, cawing. I was beginning to think nobody had ever seen pigeons before when I overheard someone say, "If you look close you can see the green." | |
| | |
| --- | --- |
| EM and I had seen the documentary, The Parrots of Telegraph Hill, and realized what the hubbub was about. We followed the noise around the corner and spotted the flock in the trees above us. I wished I'd had my serious camera rather than my dinky digital, but the big old film camera just doesn't fit in a pocket, so all you get is this little glimpse through the trees. There were dozens of green and red birds chattering away in the treetops. | |
| | |
| --- | --- |
| | Back out into the streets, the steepest streets in the U.S., where the sidewalks are often cut with steps and everyone has to park with their wheels cut toward the curb in case the car's parking brake fails. |
| | |
| --- | --- |
| Not only does EM work in a record store, she stops at virtually every one she passes. | |
This one also features a variety of interesting instruments, including one of those big Riiiih-coooo-lllaaaa horns, electric ukuleles and more.

I didn't ask if they stock any Richard Johnson, but they do have a wall of cassettes in addition to vinyl.
| | |
| --- | --- |
| | We stopped at City Lights, the epicenter of the Beat movement, but my phone rang. Former degenerate AH was in town and wanted to say hi. She picked us up, baby in tow, and drove us around while we chatted. She has moved out to Berkeley and doesn't really know her way around San Fran any more. I was able to figure out our way back to the hotel with the crummy map in the front of Let's Go better than she could give directions. Or so I thought... |
AH dropped us off at Amoeba, a record store about as large as the average grocery store. It would make many degenerates drool just for their Zappa selection alone...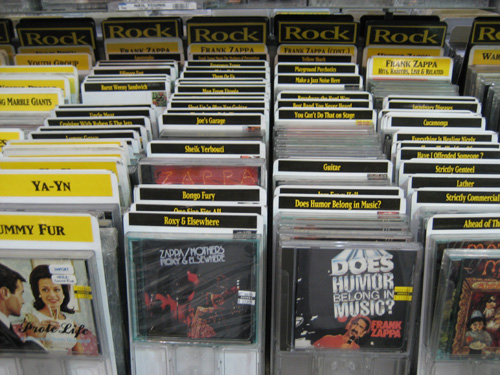 | | |
| --- | --- |
| After perusing a bit I headed down the street for a beer while EM shopped. She came away with a handful of records but wasn't as impressed as I had been on my first visit. She's jaded. | |
We stopped for a couple of drinks then looked at the transit map in an effort to get home. We just missed the bus headed toward the hotel (I have a long history of back luck with SF mass transit) so we decided to walk a couple of blocks and catch the streetcar.
| | |
| --- | --- |
| | Of course, the line on the map was underground at that point and we ended up on a long walk. But we got to see some interesting sights along the way... |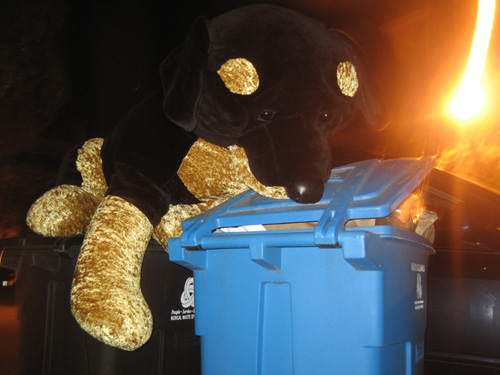 By the time we got back to the hotel we were tired and hungry. Unfortunately it was late on a Monday night and our neighborhood had pretty much gone to bed. We took our chances and walked around the block and found a place with a big sign advertising north and south Indian cuisine open until 1 AM. "Perfect!" we said in unison.
| | |
| --- | --- |
| Inside we found a bar complete with pool tables and TV's showing sports in a sprawling complex of bare wood run by a cold, grumpy Chinese woman. | |
| | |
| --- | --- |
| We ordered a couple of plates of rice dishes, not realizing we were getting enough food for 6 people. The food was ok but the strange atmosphere didn't encourage us to linger. Which was fine because after our unexpected march across town we were beat. | |
There's no place like home... no place like home...

All content on this site is owned by Degenerate Press and cannot be used without our permission. We have lawyers for friends with nothing better to do than cause trouble (no kidding), so play nice. Copyright © 2008, All Rights Reserved