We continued on in the morning, pulling over at a park that was supposed to be a good whale-watching spot, overlooking the mouth of a river. A few folks were gathered with binoculars talking about what they thought was a whale below us, judging from the water spout that was appearing every few minutes. There were some sea lions as well, being shot at by the local native tribesman.
"Are they allowed to do that?" someone asked the park ranger.
"Yep."
"Do they eat them?"
"No, they just don't like them. They say they scare off the fish."
When we got home, the news was talking about the record low turnout this year for migrating salmon in this part of the country. I have my doubts that it was due to a couple of sea lions...
Then it was back into the woods with the trees growing ever larger. We passed what I thought was a rock formation in the shadows of the forest but as we whizzed by the 20'-wide shape I realized...
"Holy shit, that wasn't a rock. That was a tree stump!"
We searched for a place to pull over so we could get a closer look of the behemoths that began to appear, redwood columns as wide as cars on either side of the road. Eventually we found a spot and climbed up the hill a bit to find a stump of an ancient giant felled some decades ago by the logging industry...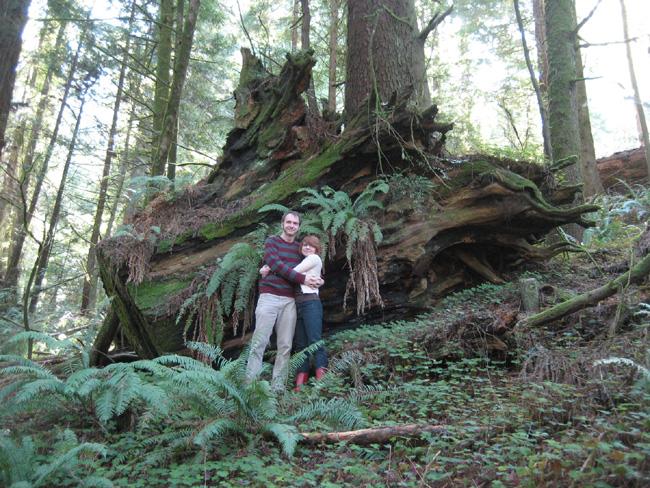 And next to it, another, even larger, with the roots still in the ground. I climbed up onto the stump, some 12' across, and tried to capture a photo of the cross section of the tree, laying next to it, all in one frame and couldn't do it with my camera.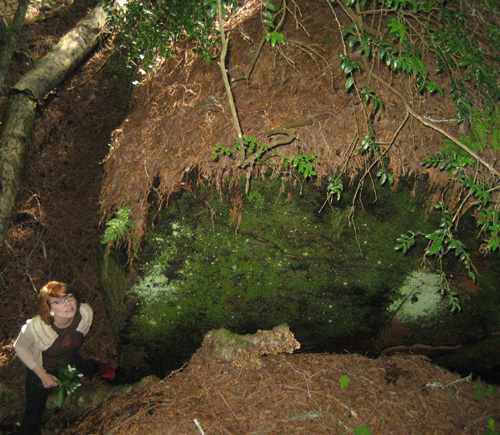 I don't know why this one was cut down and left behind. I pulled EM up onto the tree and got this picture to give you some idea of the scale.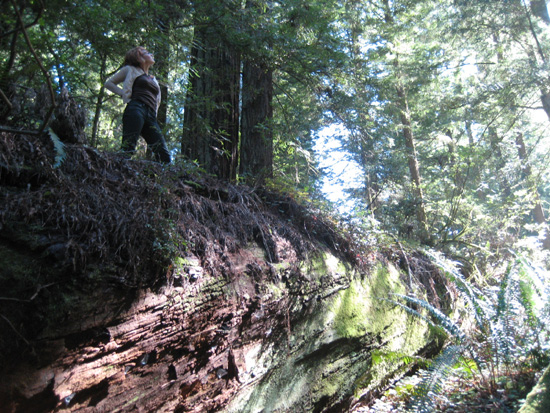 | | |
| --- | --- |
| There was another couple of hours of majestic tree-spotting on our way north, but eventually the redwoods gave way to regular pines and a road with constant switchbacks. Again, I was glad I'd filled up at the last town and our rental car got decent mileage. | |
| | |
| --- | --- |
| Occasionally the road overlooked rivers of brilliant aquamarine, a color exactly like the water in the rides at Six Flags that always made me say, "No river really looks like that." The water was so clear you could see to the bottom. | |
We hit a random Mexican restaurant, better than Taco Bell but not as good as most of the fare we'd had so far, and cruised out into wide valleys of green surrounded by mountains in the distance still topped with snow.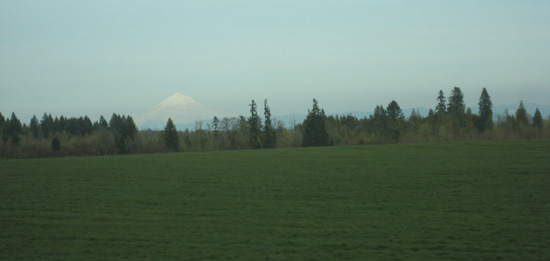 Not much to look at, and not much on the radio either, but the road was straight and flat and we had friends in Portland waiting on us, so we sped on.
The Portland International Hostel is lovely from the outside, a tall green, Victorian house with spires and carved wood columns. The staff is friendly, competent, young and cute. The few non-dorm, private rooms, however, leave a bit to be desired - like a spare square foot to fucking stand.
Unlike the redwood trees, the room was so small I couldn't capture it on camera. We had to open the suitcase on the bed, take whatever we needed out of it at that moment, then pack it back up again and stand it at the foot of the bed, blocking the narrow path to the door. I had thought that the room in San Francisco was the smallest I'd been in - not smallest hotel room, the smallest room - but the hostel wins hands down. Like the San Reno, you share a bath and the walls are thin and people are tramping about at ungodly hours making all sorts of racket.

But there's a kitchen, often stocked with free bagels and random other stuff, and the location is good - a few blocks from the free streetcars that take you all over downtown and a few blocks from a very Virginia-Highlands neighborhood of boutique shops and nice bars.
Degenerates that we are, we headed directly for a bar. Last time we went to Portland we'd fallen in love with a beer from a local brewery, so we asked at the hostel where the joint was. It turned out it's 2 blocks up the same street, so we hit Blue Moon Tavern for a Ruby or two. We didn't know it at the time, but Blue Moon is part of a string of bars, restaurants, hotels and theaters owned by McMenamins. They have several interesting old buildings they've converted and while some local beer snobs turn their noses up at McMenamins' brews ("They lack body" said one of our friends), EM and I love the Ruby. Their hummus plate is pretty tasty and they restore and preserve old buildings rather than bulldozing them as they do in Atlanta, so I don't mind supporting the chain.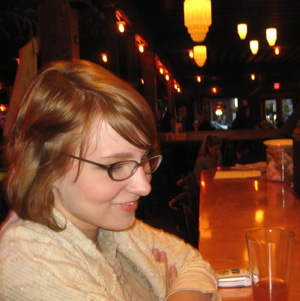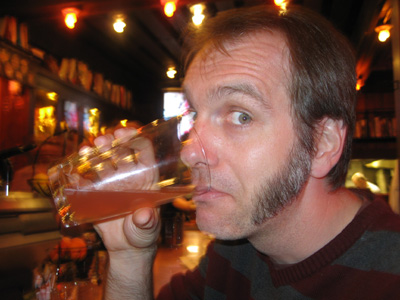 Eventually we hooked up with LK and hit another bar, the name of which escapes me. I got a sandwich and was dismayed to rediscover Portland allows smoking in bars. After the fresh indoor air of California, Portland's smoky dives seemed even worse than those I'm accustomed to in Atlanta. On the up side, they're open late and the weather had been merciful our entire trip, even in Portland, so though it was chilly as we trekked from one bar to the next at least we were dry.
| | |
| --- | --- |
| Next up, Slabtown, where Thursday is karaoke night. Perhaps not coincidentally, it was also EM's actual birthday and after a lot of badgering, and bourbon, I was cajoled into butchering a Stooges tune. Fortunately for me, EM neglected to snap a photo of the affair so you have to rely on your imagination and this drawing EM did. | |
There's no place like home... no place like home...

All content on this site is owned by Degenerate Press and cannot be used without our permission. We have lawyers for friends with nothing better to do than cause trouble (no kidding), so play nice. Copyright © 2008, All Rights Reserved