| | |
| --- | --- |
| We got breakfast at Byways Cafe, a cute little place that's slightly overpriced, something like Ria's Bluebird or Java Jive here in Atlanta. I went with blueberry pancakes - excellent - and bacon - not great. EM went with chocolate chip pancakes and veggie sausage, both of which got the thumbs up. | |
We had been searching for a new pair of boots for EM. She loves her red cowboy boots but wears them every day, rain or shine, and drags her feet so that she's gone through 2 pairs, one of them having been re-soled once, since I've known her. Our Portland friends pointed us to The Portland Outdoor Store, and I fell in love with their sign, complete with a flickering bucking bronco being tamed by a cowboy.

I was less impressed with their clothing prices. $75 plaid shirts and $40 knit caps?

But their boot prices were very reasonable, the staff was eager to help, and they shipped EM's old boots home so we wouldn't have to pack them and she could wear her new ones out the door. So if you see her, compliment her on her boots and tell her to stop dragging her damn heels.
The Portland branch of the US National Bank is a rather stern Roman style building, but I was amused to find they had made an American version of Ghiberti's Gates of Paradise on the baptistery of the duomo in Firenze.

They replaced the biblical themes with scenes from American history, such as a frontiersman offering trinkets to the natives. How about some blankets? Guaranteed to have smallpox!
| | |
| --- | --- |
| | Our Portlander friends took us to Voodoo Donuts, recently featured on Anthony Bordain's No Reservations. They feature some interesting creations, such as a pastry covered in maple icing and adorned with bacon. EM went with a donut covered in Captain Crunch. I chose more traditional fare - toasted coconut. They offer vegan donuts, as well as the Tex-ass donut, a monster about 5" across and 2" thick, for $4 - or free if you can eat it all in 80 seconds. |
The weather continued sucking but my hooded guides insisted on wandering, seemingly aimlessly. Eventually we stumbled into the Portland Saturday Market, an artsy crafty fair spread out over several blocks, some of it, thankfully, under a bridge. There were a few cute things but we were pretty much shopped out.

We said goodbye to our guides and returned to the hostel to get ready for the evening's events.
We changed and caught a cab to avoid the cold rain, arriving at the Portland Center for Performing Arts with time to get dinner beforehand but not time enough to explore to find something special. We landed at a upscale Italian chain restaurant, Pastini, for mediocre pasta, then walked block after block in spitting rain search of a nicotine fix for EM before we hustled to the theater for the show.
We stopped at the lobby bar and got a couple of Too Much Coffee Man beers, a caffeinated stout that we'd had on our last visit and likened to drinking a loaf of pumpernickel - heavy stuff. Author and artist of TMCM himself, Shannon Wheeler, was sitting at the bar and we chatted him up momentarily, getting him to snap a photo of us in our fancy digs.

We hopped on the elevator and snapped this self portrait reflected in brass.
| | |
| --- | --- |
| Shannon took the stage and gave us some background. As we waited we realized we were sharing a table with his two sons and his mother so we tried to keep or color commentary to a respectable tone. | |
The show was swell, basically and expanded version of the production from a couple of years ago. The novelty of seeing Too Much Coffee Man live on stage was gone for us, but the songs are funny and the guy playing TMCM himself is hilarious.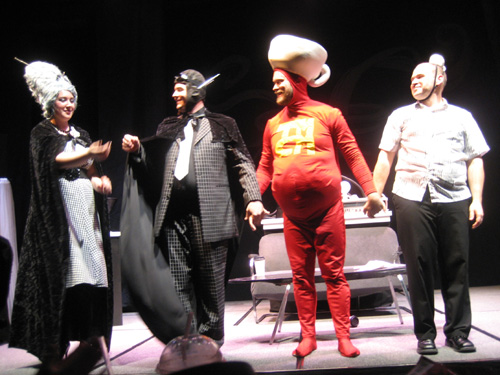 Then we had a choice to make - get to bed at a reasonable hour and get up around 3:30 AM to finish packing, grab a cab to the airport and catch our 6:15 in-the-goddamn-AM flight - or stay out all night carousing and sleep on the flight home.
I've stayed up until 3:30 far more times than I've gotten up before even 7 AM, and EM was up for it, so we returned to the neighborhood around the hostel and hopped from bar to bar, working on the illustrations that randomly adorn this review (I photoshopped in the color when we got back.)

We found a 24 hour coffee shop that was showing movies, but unfortunately it was Waterworld, followed by The Postman. But they served up a tasty grilled cheese and it was nice to relax a bit before packing up for the flight home.
Staying up all night also allowed me to sleep quite a bit on the flight, something I never do. I don't think we were off the ground before I dozed off, waking up over the Rockies.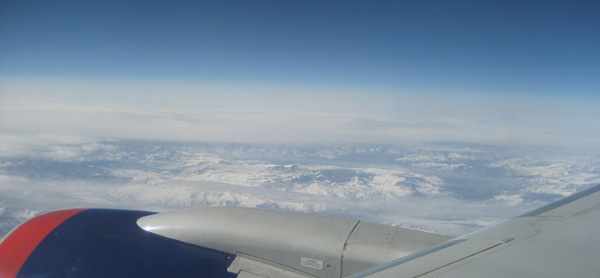 Back home the cats were cranky but alive, thanks to degenerate DC, and life resumes, even if I'm still 3 hours behind. But then again, I usually am...
There's no place like home... no place like home...

All content on this site is owned by Degenerate Press and cannot be used without our permission. We have lawyers for friends with nothing better to do than cause trouble (no kidding), so play nice. Copyright © 2008, All Rights Reserved