We had a long drive ahead of us, so we got up relatively early and got a bite at Caffe Trieste. Delicious coffee, big pastries, photos of the storied history of the cafe on the walls.

Chinese people were doing tai chi in the park and the sun was coming out and...

Tell me again why we're leaving San Fran?
So be it. We picked up our rental car and found our way through town, swinging by for a close up of Lombard Street, the crookedest street in San Fran.

As tempting as it was to circle the block and drive down it, we had miles to go.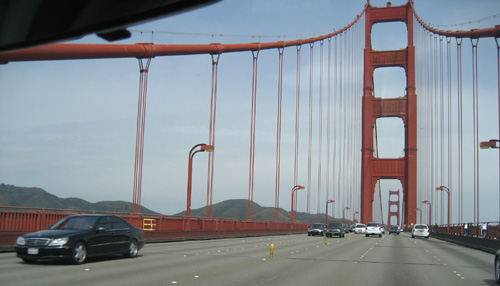 | | |
| --- | --- |
| Out through rocky hills covered in lush scrub after a mercifully wet winter, dotted with pink and yellow flowers, the road snaking back and forth, up and down, until suddenly there's the slate blue sea. | |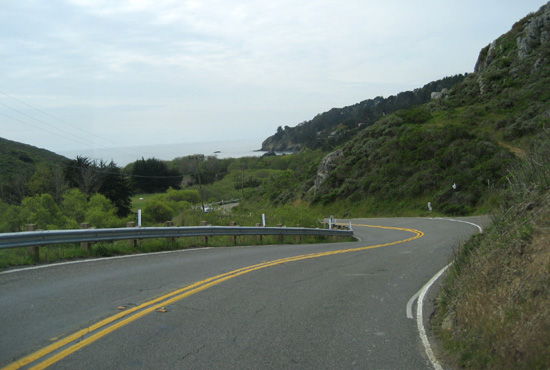 We found a cute little park overlooking the sea with a path down to a pinnacle of rock jutting out into the Pacific. Check out the view!
The park was dotted with concrete bunkers used for spotting enemy ships during WWII, which could then relay the info to the big guns in San Francisco. You could just barely see San Fran off in the distance.
| | |
| --- | --- |
| | We dug out the sandwiches we had picked up at a really nice Italian deli in San Fran and sat down for a picnic. Had we been anywhere near our destination I would've popped the cork on the bottle of wine we'd picked up too, but we had 7-8 hours of winding roads between us and Redwood National Forest. |
After such delights, how about some contrast to make the day a bit more Zen? The park's public toilets were... less than charming. I have spared you the look down this thing's gullet that I got when I went in to pee. Suffice to say, there is no plumbing here, just a pit.

EM nodded in agreement when I said, "Had I known, I just would'a peed behind a bush."

But it was an omen for our drive along Highway 1, AKA the Pacific Coast Highway. There aren't many towns, much less public restrooms. Several gas stations even had port-o-lets outside rather than allow even their own customers use of indoor plumbing. What the hell? Someone could make millions just having a clean bathroom and charging a buck a visit about halfway between San Fran and the end of Highway 1.
| | |
| --- | --- |
| Back on the road, up through forests that seemed strange to us East Coast natives with towering trees and foreign flowers, occasionally rounding the bend to find the Pacific or some inlet below. | |
| | |
| --- | --- |
| Then down into valleys of rolling green hills dotted with cows and sheep and little else for several hours. This part of the drive was pretty - for about half an hour. We had planned ahead, packing a huge pile of CD's, some compilations I'd made just for the trip. But just outside of San Fran we found the rental car's CD player didn't work. And any radio is tough to come by in those long stretches of nothing. Not the most exciting part of the trip... | |
| | |
| --- | --- |
| | But then the sea would reappear, often in breathtaking views with waves breaking against rocky cliffs below charming seaside villages, or parks with sandy beaches all but abandoned off-season. |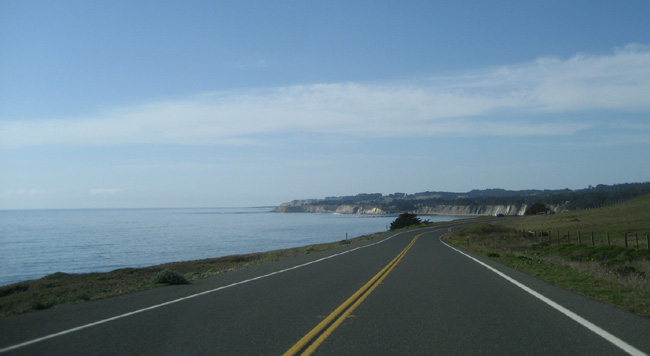 Even if you wanted to, you couldn't rush. The road often winds along a precipice, sometimes with evidence of where the crumbling rock has given way and the road has been patched back together.

Or make it around a sharp bend only to discover someone's cows have escaped and are crossing the road, giving you the choice - ram them, drive off a 100' cliff, or turn into the rock wall and hope for the best.

Take your time on these roads...
| | |
| --- | --- |
| Did you know the Russians used to hunt for otters as far south as this? There are a few replica buildings along the way, this one a restaurant. According to the guidebooks, and judging from the hotel and parking facilities along the route, the area gets busy at the height of the season. We had beaten the official beginning of the season by a week or two and had long stretches of road to ourselves. | |
Then the road turn a turn into the hills and forest, a tedious series of endless switchbacks. A couple of hours later I was glad I'd stopped at the previous town and refilled the gas tank. There wasn't so much as a house for many, many miles. It was a happy moment when we finally hit the end of highway 1 and turned north onto what I hoped would be the comparatively direct US 101.

But alas, it, too, winds through forests for hours. But you get hints that big things are coming - as in big trees.
By the time we reached the next town we were tired and hungry. We stopped at a random TGIApplegans-style restaurant, only to decide the prices were too high and we were too beat to enjoy a full meal. So we hopped back in the car and hit Taco Bell. I only seem to eat at places like that when I'm on vacation. After so many days of fantastic food, you need a reminder - no light without dark...
Speaking of, it was dark as we pulled into the town where our hotel was. I wished we'd left San Fran earlier in the day so could've explored more on the way. If there is a "next time" I'll camp in the forest a few days rather than a single night in a mundane hotel.
There's no place like home... no place like home...

All content on this site is owned by Degenerate Press and cannot be used without our permission. We have lawyers for friends with nothing better to do than cause trouble (no kidding), so play nice. Copyright © 2008, All Rights Reserved